Ten gorgeous, whimsical, surprising sculptures made out of books and words were given this year to various libraries in Scotland, all anonymously. The beautiful pieces were left in nooks and windows and corners, to be found by librarians sometimes days later. Here are some teaser images….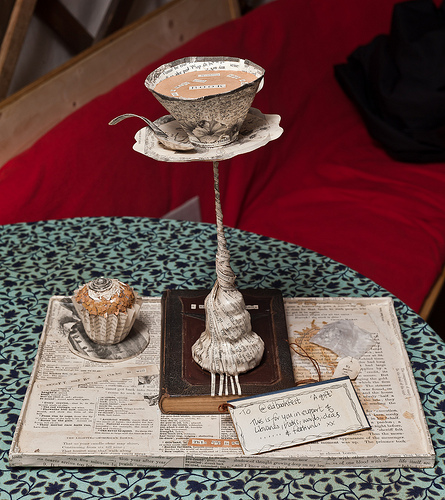 This one has all kinds of tiny details, from the words floating in the cup of tea, "Nothing beats a nice cup of tea (or coffee) and a really good BOOK", to the words in the teabag, "by leaves we live," and more.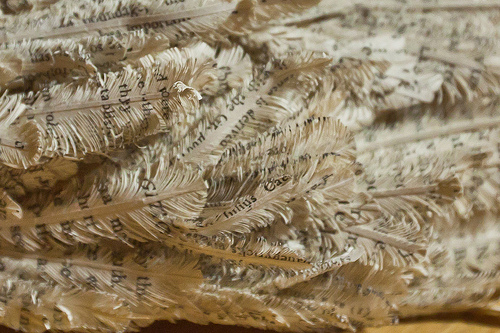 Part of a larger piece, a wing made of thousands of exquisitely crafted feathers.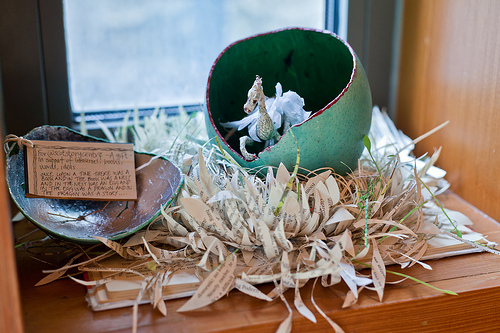 A baby dragon, hatching out of a book egg!
I just love this whole story, the generosity of spirit, the playfulness. In a world full of self-promotion and "look at me!" to give such lovelies anonymously seems, well, kind of wonderful.  At the same time I sort of hope the artist comes to light. I'd like to know more about this person, see more of her work, give her some joy back. I guess she's getting that, though, privately, with all the press the pieces have gotten.
Read the whole story with lots and lots of photos of all ten pieces.  Really, go read it!  We read it this morning over breakfast and it made us all happy.  What a gift.