Grimmly, over at his Ashtanga Vinyasa Krama blog turned me on to Heather Morton's backbending videos, and I thought I would give the first one a try, seeing as how I am pathologically afraid of becoming a hunchbacked old woman who can't look up.  Backbends are easily the weakest part of my practice, and, of course, Ashtanga's Primary practice, which is what I do, has very little in the way of backbending work.  I've expanded what there is using the David Williams trick of extended a lot of the Up Dogs by five breaths, instead of a single inhale, and this has done a lot to improve my ability to bend back, but I hit a plateau.  So, when Grim was talking up this video I thought, okay.  Let's do this thing.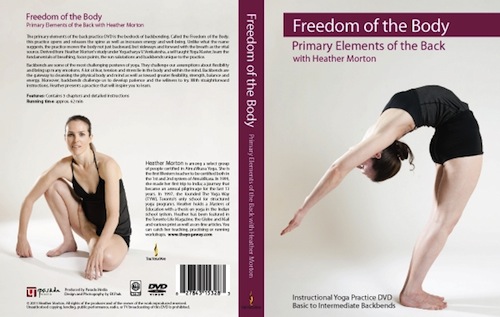 First off, mother of god, this woman has a flexible spine.  I mean, she can do things SOPHIE can't do.  When Sophie is impressed with your backbend, you know you've got it going on.  And she just stays and stays and stays in these anatomically impossible positions… Thankfully there isn't too much of that in the first video, mostly doable stuff, hangbacks, cobra, locust, setu bandha, urdhva dhanurasana.  I can do remedial versions of all of these, meaning, I can do them, I just can't bend back very far in most of the (compared to Ms. Morton anyway), and man, she stays in them a long time.  I actually would have appreciated just a touch more support for us backbending-challenged folks, just a mention of "beginners may stop here" or something.  She does give a couple of variations for the basic hangback, but even her most basic is off the chart for me (at her duration, anyway) and a touch more help there would have been appreciated. She does offer many little verbal adjustments in her patter that are helpful in staying longer, and staying safe, and these, I think, are the video's best strength.
But anyway, the length of her stays in these asana bring me to the title of this post.  The emotions that come up when I try to do any of these long backbends are nuts.  Panic.  Anger in response to the panic.  Flushes of heat then cold.  And…well, PANIC.  Panicky panic. It's totally weird.  I'm standing in my safe little yurt, my kids playing around me, bending back—and not very far may I add—and my body is shaking and breaking into cold sweats (not the regular work-out sort of sweat, more like when you are about to throw up, you know what I mean?) and I am freaking the fuck out, only quietly, to myself.  All this after only a few breaths, no way can I stay in as long as she does, a few breaths and I'm done for. (I should mention I'm not talking about PAIN. I'm not doing anything that hurts.)
Is this typical for backbending?  I know backbends affect the nervous system pretty strongly, so…maybe?  Forward bends create the opposite in me, relaxation, sleepy ease, inward calm.  If one physical position can create one kind of emotional/chemical response, it stands to reason a different physical position could create a different response.  I just never expected anything so dramatic! Did I mention the panic?
Oh, and my muscles are WEAK.  I thought I was doing okay, but holy cow, I've got burning achy muscles the next day after doing this vid.  Maybe if I get some strength the shaking will go down…? I'm sticking with it but easing up a little because if it's too intense, I'll start dreading it. Must balance the motivation that comes with the excitement of doing something new, plus the motivation the comes from the ambition to do fancy poses, with the anti-motivation of trembling freak-outs. Too much anti-motivation, too much dread, and I just won't get on the mat. This is the voice of experience talking.
Always something interesting going on in the practice.
And, not that I'll EVER do anything like this, but here is Heather doing something…impossible.
For more of that, see her youtube channel. Watch out that your jaw doesn't hit anything sharp when it hits the floor.