There is a great "This American Life" episode called "The Real Story"  that includes a hilarious section from a writer, a huge fan of Star Wars (IV, V, and VI), who was distraught over how wrong they had gotten Episode I.  At night, lying awake in bed, he would rewrite it, making it the perfect shining thing it should have been.
Is this a writer thing?  A geek thing?  I've done the same thing repeatedly with various stories, once before on this blog for the Matrix sequels.
Now I'm going to do it with Buffy the Vampire Slayer.
Like bazillions of others, I watched Buffy the Vampire Slayer when it was live on the networks and loved it.  And while there were story lines and characters that had me totally hooked, there were others that bugged the crap out of me.  And apparently still do, ten years later, because here I am writing about something they got totally right, and something they got–for me–wrong enough to piss me off for a decade.
So, I submit Part 1: how Willow and Buffy were on parallel journey's, mirroring each other in often lockstep style (focusing on season six and seven) and Part 2: where and how the writers broke that linkage, and why I think things should have gone differently (with evidence! Lots of evidence!).
And let me add this: props to everyone involved on Buffy for creating a terrific story I still care about ten years later!  No disrespect meant with my little deconstruction to come.
One more note: I'm going to be talking about all the information we get up to the final episode—the full text as it were—a perspective we didn't have back when we were watching live.  It's a different experience to know the end as you watch the beginning and the middle.  It alters the meanings of things as they progress.  For example, the whole magic-as-drug addiction thing looked like a weak metaphor for an after-school-special when it was airing.  But knowing the whole picture of Willow's arc deepens that perspective.  I'll say more about that in a minute.
People who could care less about Buffy and the Scoobies should bow out now.  So, let's get to it!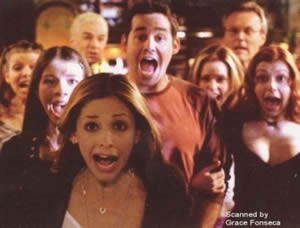 Okay.  This show is about is power.  Who has it, who wants it, how they get it, and how they deal with it when they've got it.  For Willow, power is clearly mapped out as Magic, first as a hobby, then as an addiction, then as something inside of her she has to deal with (paraphrase from Giles in the season 7 opener).  For Buffy, power is  being the Slayer, which we learn late in season 7 comes from a magical ritual done thousands of years ago where a girl was essentially raped by a demon to gain the demon's power to kill other demons—a power that would pass on to a new Slayer each generation.  I think Spike (and Buffy's attraction for him), in many ways embodied that demonic/slayer power for Buffy in the later seasons.  So we have Willow's relationship to witchy power and Buffy's relationship to Spike/Slayer power, two girls, two versions of power, but over the years, the way these two young women come to understand and use their power is mirrored repeatedly, each girl's path informing the other.  In this section, I'm going to take a quick tour of this mirroring.  Here we go…
In the early seasons, good and bad are clearly demarcated: humans are good (or at least have that potential) because they have a soul, and demons are bad, because they don't.  Angel was the exemplar of this line: when he had his soul he was a good guy, when he didn't, he was evil.  No character ever felt guilt or remorse for killing a demon, but killing a human was murder: bad.  Black and white, good and bad.  Easy.
As the show progressed, however, these lines got blurred.  Great example: Spike.  A vampire (demon) with no soul, and so Bad, at least in the early seasons.  But Spike is an odd duck, from his beginnings (turning his mother into a vampire out of love for her), or his centuries-long love affair with Drusilla…a demon feeling love?…and then falling in love with Buffy, pre-behavior-modification-chip, even!  Spike chose to work for the white hats when he was still a demon (something Angel never did) and had no soul.  A grey area indeed.
So, Willow starts out wanting to learn "good" magic, not messing with the "dark stuff" and Buffy kills all demons easily–the lines between Slayer and Vampire, white magic and dark magic are all nicely marked out.  And it turned out the magic liked Willow–she quickly acquired power and skill in the Wicca world.  And, surprise, Spike liked Buffy (much to his initial dismay), and Buffy comes to depend on Spike, trusting him, for example, to protect her mother and sister from Glory in season five.  From this position of affinity, we begin season six.
At the opening of season six, Willow does her first dark spell, bringing Buffy back from the dead…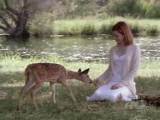 who didn't gasp the first time you saw Willow kill that deer?
…a huge act of magical power.  We also see arrogance creeping into our formerly meek Willow in her fight with Giles, "These forces are very powerful.  I'm very powerful.  And maybe it's not such a good idea to piss me off," ("Flooded).  At the same time Buffy, unable to honestly face her friends, has her only moments of connection with Spike (for example, both having wounded hands, hers for climbing out of her coffin, him recognizing those at once and then injuring his own hand punching a wall, "same as you.").  When she can't tell her friends the truth about where she's been, she is able to tell him.  The affinity deepens.
Real life sets the stage of problems for our characters, and neither young woman wants to face it.  Willow uses magic to solve everything and Buffy runs off to hang out drinking with Spike ("Life Serial").  Willow runs into trouble with her girlfriend, Tara, for using magic to avoid problems and Buffy runs into similar trouble with Giles for avoiding her problems.  Finally Willow casts a spell on Tara's memory and Buffy kisses Spike—parallel moments of diving deeper into that which makes them feel better.  On one level it might look like a thinly disguised story about the bad choices young people can make, but with the whole picture before us, I suggest something else: both are diving into the source of their power. AND, and I think this is the real arc of the season, both are trying to use power to fill themselves, that is, fill the empty places inside where they do not like themselves.  I believe it is this self-hate that is the real problem they face, not the black magic, nor the demon sex.
Look: in "Restless" (finale of season 4) Willow's big fear isn't that she is revealed to be naked, or that she's revealed to be gay, it's that she's revealed to be her old geeky, high-school-reject self.  In season 6, Amy the ex-rat plays on this fear of Willow's when she goads Willow into going out on the town. "Maybe you'd like to sit at home alone, like in high school?" Willow admits to this fear herself when she says, "If you could be plain old Willow or Super Willow, which would you be?"  Clearly, Willow doesn't think much of "plain old Willow."  Season six Willow is using magic to cover over "plain old Willow," geeky Willow, stay at home by herself Willow.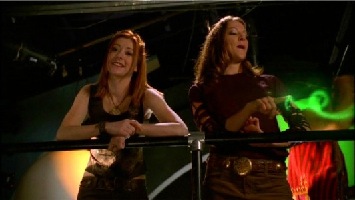 No Plain Willow here…
In other words, Willow is trying to TAKE from magic to fill up the places inside herself she thinks are empty.
Buffy's fear at the beginning of Season Six is that her friends will find out that she  isn't the girl they think she is.  She isn't glad they "saved" her, in fact, she isn't happy at all, something they really want her to be, as Dawn says in "Afterlife," "It'll be better now.  Now that they can see you being happy.  That's all they want."  Not only is Buffy not happy, when Spike finds out he can hit her–that his don't-hit-humans chip isn't triggered by her–she is certain that she "came back wrong," something else she feels she has to hide.  But still Buffy pursues him and they have sex (taking down a house, and metaphorically, her Self, as she does) (jesus, wasn't that scene amazing?), because he's "the only person I can stand to be around" ("Life Serial") and "the only time I feel anything is when…[they have sex]." ("Dead Things").  Season Six Buffy is using sex with Spike to feel, to connect to something, because she is rejecting what she is (unhappy with being resurrected).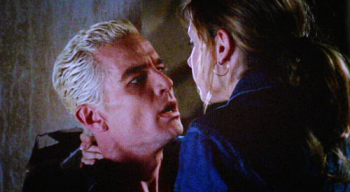 "Holy shit, did she just do what I think she just did?"
In other words, Buffy is trying to TAKE from Spike to make herself feel better.
Hang onto that…
In "Smashed", Xander says (speaking of Willow, but Buffy takes it to be about herself as well), "She's getting a taste of something powerful, way bigger than her.  It's got to be seductive, just jumping into it, going totally wild."  Willow herself says, "I just think there's got to some place…bigger than this."  Which is exactly what both young women go after.  Buffy gets it on with Spike, and Willow goes to Rack, a dealer in dark magic who blisses her out while making her feel dirty (remember miserable Willow in the shower, trying to wash the dirty away in "Wrecked"?)  Willow hates what she's doing to get the magic-bliss she craves, and Buffy hates what she's doing to get the feeling she craves ("Last night was the most perverse, degrading experience of my life," Buffy in "Wrecked")(I love Spike's answer, a sly, happy, "Yeah, me, too.").  Parallel paths.  But stay with me because I really don't think this season was a "good girls making bad choices" story.  It's a heck of a lot more complicated than that.
But, quickly, a handful of parallel moments… 1-Both young women lose a white-hat gate-keeper just as they begin pursuing their paths through darker territory: Tara leaves Willow and Giles leaves Buffy.  2-Willow's I-feel-dirty shower is mirrors Buffy trying to get the stain out of her coat (acquired in an outdoor romp with Spike).  3-Willow sweating it out in magic-detox is mirrored in the same episode with Buffy covering her windows in garlic, but also, in a later episode when she is walking through the cemetery chanting, "Don't think about the evil, blood-sucking fiend," trying so hard to stay away from the thing she wants.  4-Amy taunts Willow again saying, "You're not denying you had fun, [when Amy dosed her with magic]" and "you're saying you're never going to let yourself feel like that again?"  At the same time, Buffy faces her Doublemeat Palace manager who points to her "5 years!" button and says, "I want you to be aiming for this from now on!" ("Doublemeat Palace").  Yikes.  5-Tara says to Willow, "You're helping yourself now [with magic] fixing thing to your liking," ("Tabula Rasa") and Spike says to Buffy, "…all you've ever done is play me.  You make up the rules as you like," ("As You Were").  There are many other mirror-moments, but these give a taste of how each girl is on the same path.
Moving on.  Both young women are drawn to what helps them deal with their painful feelings, while at the same time both blame the thing they are drawn to for their problems.   Willow is using "dark magics" so it's the magic's fault for the problems…therefore she thinks she has to give it up.  Buffy is having a secret relationship with a demon…and demon's are "everything I hate, everything I'm supposed to be against," (Buffy in "Dead Things")…therefore she thinks she has to give it up.  Willow bottoms out when she causes Dawn to get hurt ("I can't stop.  I need help." "Wrecked") and gives up magic, while Buffy calls it quits with Spike a few episodes later when Reilly returns.  That is, both young women believe they must give up the "bad thing" in order to be a good person.
(If we keep in mind that the Slayer's original power comes from the rape of a girl by a demon-spirit to give her its power, Buffy's pursuit of sex with a demon (Spike) to feel alive starts to look like an instinctual connecting with the power of her Slayer-ness to deal with her pain of being brought back from the dead.  It's not a bad instinct.  Except that she hates herself for it.  I'd say there are two parts to that hate.  On the one hand, vampires and demons have been clearly marked Bad.  So if Buffy likes a demon, that must make her bad, too.  But the thing that finally makes her stop being with Spike at this time is that she realizes she is using him and can't stand herself for treating him this way.  "I'm using you. I'm being weak and selfish and it's killing me." (Buffy in "As You Were).  Either he's a thing, to be used, or a person, not to be used.  She goes with the latter. )
But it isn't that simple.  Neither one can give up the source of their power.  Instead, they need to learn not to try to take from it.  That is, they must connect to their power not from the places they feel empty inside.  I say: using their power to try to fill themselves up is where they were going wrong, not the power itself.
"Normal Again" gives us our first clue to the future healing the two young women will need.  In this episode, Buffy gets "poked by a waxy, dead demon" that wears a long black coat, poked by a spike, actually, and did I mention that it makes her go crazy?  Just like Spike.  NotSpike makes Buffy think she's really a normal girl who is crazy.  In order to cure herself, Buffy has to give up the fantasy that she is a normal girl and embrace that she is the Slayer, crazy or no.  To top it off, the antidote to the poison is also within the NotSpike demon.  Playing that back, getting poked by Spike at first makes her crazy, but if she can face being the Slayer, he also contains the cure.
Oh, and she tears out NotSpike's heart with her bare hands.  Which is pretty much what she does to Spike, too.
Willow, on her 12-step recovery path, appears to be doing better, reconnecting with Tara her white-wicca lover, and things are looking rosy for her.  Buffy is doing better, trying to get on with her life by staying away from Spike.
But the power both have hasn't gone anywhere.  When Buffy pushes Spike away, hurting him for the last time, he goes crazy and tries to force her to admit that they are connected, that she feels something for him, in a rape attempt.  "I'm going to make you feel it," ("Seeing Red").  And When Tara is killed, Willow grabs at the biggest power she can in order to deal with her rage and grief, and fills herself with dark magic that has gone crazy.  She turns murderous, mean and hurtful even to those she loves.  Power deferred, festering and turning black…?
But in these parallel nadir points, healing is found.  Giles returns bringing a connection (via a coven in England) to "the true source of magic" ("Grave") and Spike, after many painful demon trials, gets his soul back.  Both sources of power are returned to balance, not Good, not Bad, as in the more youthful and simplistic early season, but BOTH.
Two girls, learning about power, trying to use it to spackle over the bits of themselves they have judged Not Good Enough, and learning how badly that can go.
Season seven is about Buffy and Willow integrating and learning how to be in relationship with this new, morally complicated ower.  But something important runs right off the rails, if you ask me.  The best parts are yet to come…
And hey, if you're a Buffy fan, please comment, tell me where you think I'm full of it, or where you think I'm onto something.  I'm sure smarter people than I have already written about this stuff…and probably intelligently refuted my every point.  I'd love to hear about it…
UPDATE: part 2 is now live.  Enjoy!