Check it out.  Me this morning.  Progress is happening.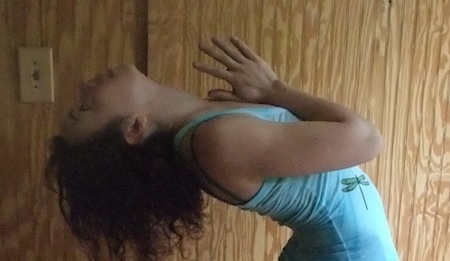 (Isn't this a cute Rubyfish tank-top that Sophie designed with the dragonfly stamp?)
For comparison, here I am in July 2o10, about ten months ago.  I had been doing ashtanga for a little less than a year at that point.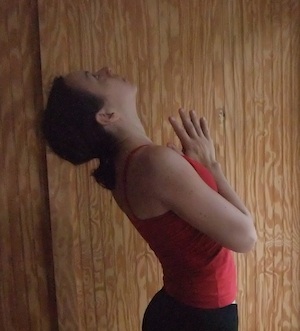 As I've mentioned, when I started ashtanga, a "hang back" for me, literally, was standing straight up and down.  I couldn't go back at all.  So I was pretty happy when I took the red tank pic where I could actually see the ceiling.
Here I was in January of this year: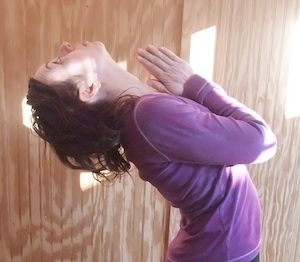 The purple shirt picture was just three months ago—quite a lot of change between that and the dragonfly tank picture.  And I'm feeling a lot of change, movement in my upper back (although it still looks pretty straight in the picture).
I'm attributing this rate of change with the David Williams trick of holding the Up Dogs in each vinyasa for five breaths.  Lot of vinyasas in full Primary (which is what I'm doing at the moment), so that's a lot of chances to work on warming up, extending, and arching the spine, even in Primary where there very few other back-bends.
Given how stiff my back was when I started, I'm excited to see this progress.  I'm almost horizontal!  Maybe I won't turn into a hunch-backed old lady after all.