We went to my grandmother's 87th birthday party last weekend.  We loaded up the car with i-goodness (audible books, music, movies, games, drawing apps) and snacks and off we went.  Road trip!
But once we arrived, the party itself passed in a sleepy dream-like swirl, which I think may be how life is these days for Grandma, past and present all mixed up, slow conversations that drift.  For example, she walked me around the yard of the house she has lived in for 60+ years, pointing out the stories behind various trees and shrubs.  It took a long time to make that once loop, which was fine, a huge down-shift from my usual speed of chasing kids.  Some of the stories I knew, some were new to me, like the gorgeous yellow explosion thing (damn, I can't remember the name now) that had come from her own mother's farm, or the fact that she had planted the gigantic magnolia herself, driven it up from Florida in the trunk of her car 60 years ago, and now the thing sports multiple trunks and can host a dinner party beneath it, like a mini-forest in the front yard.
Here is Sophie climbing in it, blown by the salty-smelling wind.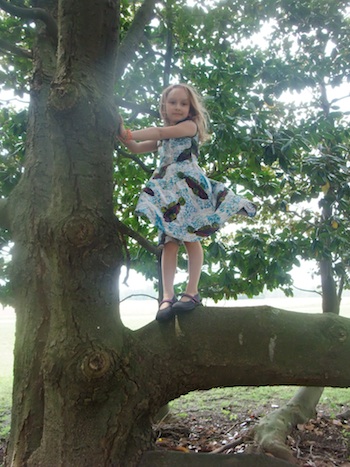 Both the kids spent most of the time in that tree like the little monkeys they are.  I still get a thrill from standing near it because I was strictly forbidden in my own childhood from climbing it…I think the reason was poison ivy, which has since been removed. That yard was full of danger-zones for kid-me, wasps in the shed! Corn that will cut your eyes!  Killer cars on the road!  Rusty poles not to be touched!  Too-steep steps to the attic!  It all seems totally benign now, but once Grandma's was a world of mystery.
The kitchen was safe, though.  I love this shot, four generations of Lassiter women lined up at this particular counter, making good things to eat.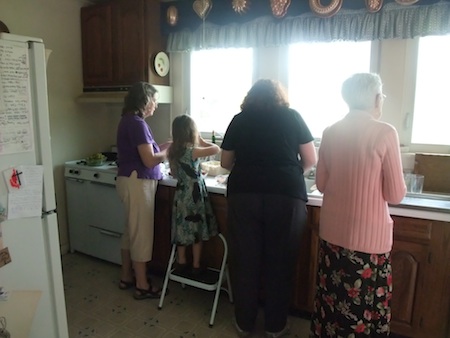 It's a classic image from my childhood.  But what are they doing over there?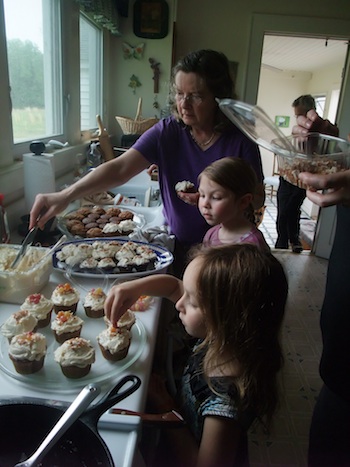 Cupcakes!
I took a lot of pictures, wandering around, just documenting the place.  It was a farm, but hasn't been in a long time.  Granddaddy grew grapes and made wine, the back shed was the center of his operations, and also where he fried fish, my favorite dish in the world.  The pecan tree I climbed as a kid and the giant persimmon tree have both been lost to hurricanes, so much looks different, but much looks the same, too.  For example, the remains of the elephant garlic patch still come up every year and the attic is still decorated largely as it was when Grandma's youngest daughter was a teen-ager and used it as her room in the 60s.  Sitting down in the backyard to look at it all, I fell through the now rotted hammock.  Oops.  But it fit.  I always feel peaceful there, but sad, like something good is passing, or has passed.
And then I saw this picture hanging on the wall of pictures, of me, ME, I think I'm about sixteen.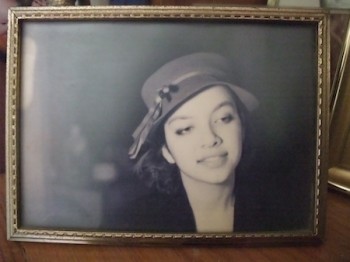 It's been a long time since I looked like that. I'm passing, too.
There are pictures of all the various family members, frozen as young people.  Here's my Grandma when she was sixteen, on the day she got married.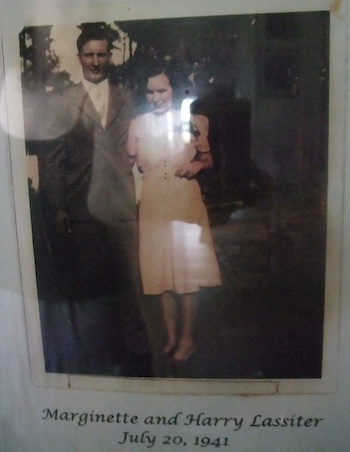 Terrible glare, sorry, and you can see a reflection of me in it, her granddaughter, seventy years later, taking a picture of the picture.  When we are sixteen, do we ever imagine the people we will make who will carry on after us?  Will Sophie's future forty-year-old daughter take a picture of the picture of me at sixteen, while I have my 87th birthday party?  What will that granddaughter be like, I wonder? (I hope she comes along, I can't wait to meet her.)