Fancy had her babies!  Two healthy kids, a girl and a boy, and Fancy is doing fine. And Sophie, goat-midwife extraordinaire, was just the best, staying right with Fancy the whole time.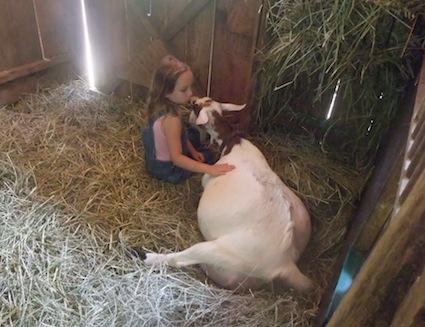 Here she is in the beginning, sitting with Fancy through contractions, waving flies off of her, generally being a sweetie.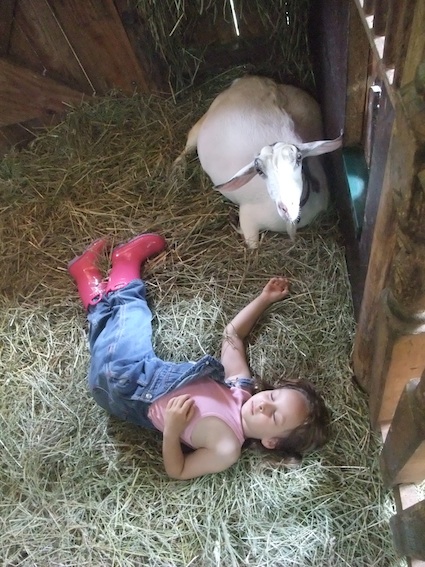 After an hour of that, things were getting a bit tiresome, though.  And another hour and I was starting to get worried.  Goat births are usually short, and this is Fancy's second, so I was expecting things to go more quickly.  Finally, after three hours of mild-ish contractions (at least, she wasn't showing much discomfort) she starting pushing.  Ah, that's what we want to see, active labor!  That's when the clock starts ticking with a goat.  Once active labor starts, you really need to have some kids, or at least be seeing a head, within half an hour or so, or something is wrong.
Next paragraph is a bit graphic, skip if you'd rather.  Anyway, 45 minutes later, nothing.  Oh, I did not want to 'go in,' as they call it, but oh well.  Time to find out why this was going so slowly.  Well, first thing that happened was I found one back leg.  Not good.  Not good at all.  I call out to Paul to call the vet, because I can't find another leg, or a head.  Finally I pop the other sack in there, and that baby starts presenting properly, that is, nose sitting on two front hooves—it's called 'diving position'—yeah!  Cancel the vet!  So, that baby comes out (with some tugging) allowing the other one to swing around into position.  A few minutes later, the second one, the one with the previously mentioned back leg, arrived.  Six hours all together, oh my gosh, we were all exhausted.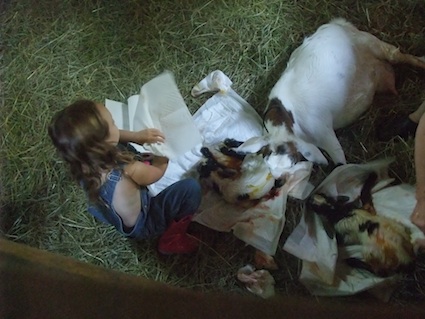 Here is Sophie, such a trooper, cleaning off babies.  Fancy is licking and cleaning, too.  After her first kidding, she wanted nothing to do with the babies. This time, she went right to work.  Good Mama!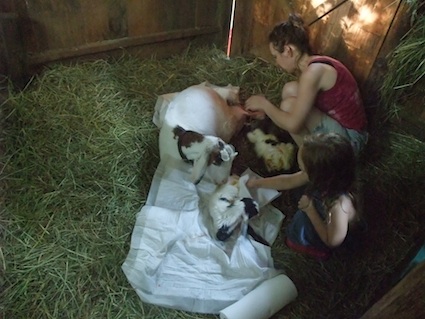 They're getting all clean and shiny now!  A girl, white with black socks, and a boy, white with brown socks and a brown and white head.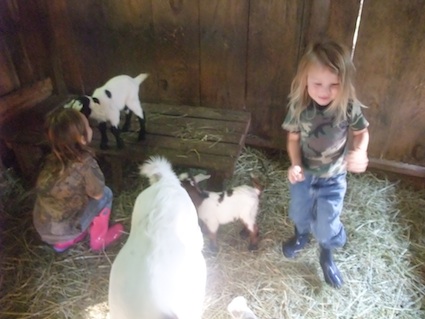 A few hours later Luc came out to see them—he had been too nervous before, but he loved the babies at once, of course.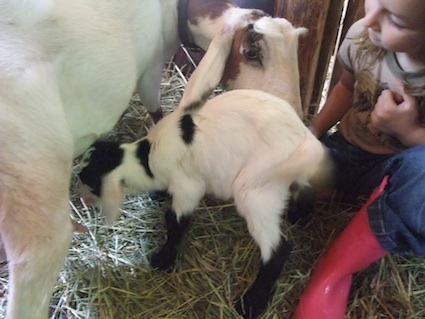 Yay!  No problems nursing.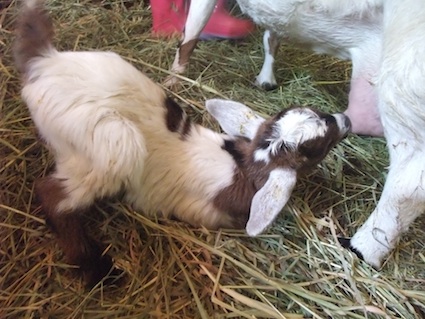 Aren't they adorable?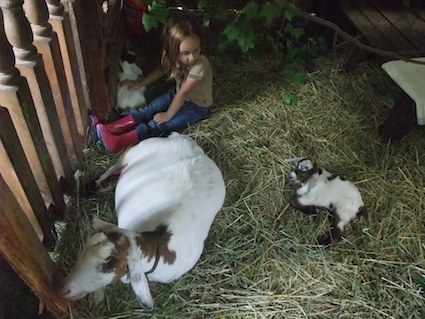 The main thing with baby goats is to spend a lot of time with them, so they get used to humans.  If they don't get tamed in this way, they'll be wild, and not want to be handled when they grow up.  Not good for a dairy goat.  Basically, you hang out with them, sitting for a long while, and let them come to you.  Pretty quickly they want to crawl all over you.  Enough of that and they'll happily hang with humans the rest of their lives.  In my experience, boding with humans like this does not have to diminish the bond they have with their mom one bit.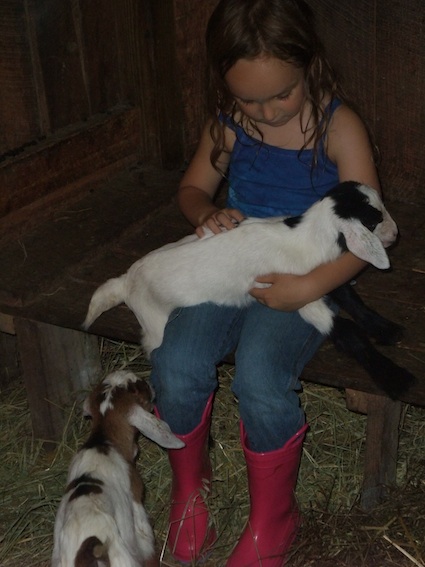 I can't commend Sophie enough for her assistance in all of this.  It matters not a bit that she is six years old.  She's just a fantastic goat birth assistant, full stop.
But then when we went for a celebratory swim, we found Myrtle the Turtle floating in the pond near our dock, dead. We couldn't tell anything about why she died, just that she had.  It was incredibly sad to see her like that. We were all upset. As we walked home, Luc said he wished he could forget about Myrtle completely, until I pointed out that then he would have to forget how beautiful she was when she swam, how curious she was about him, watching him from the water for long minutes at a time, and how she had made him laugh.  After a moment, he agreed, he didn't want to forget those things.  "I think she was a very old turtle, because she was a very big creature.  I think she died from being old."  I hope he's right.
When we got home, Luc built several green Myrtles out of legos, giving one to each of us, "in case we were feeling sad about Myrtle dying."   Then later that night, we were listening to Satie's Gymnopedie, a slow, graceful piece of piano music (it came up on the ipod shuffle), and Luc said it was sad music, and made him think of Myrtle.  I agree, to the sad part, but even more, the way she looked when she moved through the water.  I asked him if he wanted me to change it, and he thought about it, then said no.  I guess he was doing all right with remembering her by then.
I asked Paul to move Myrtle's body.  He agreed, although grumbling a little, "I guess I have to handle the gross things?"
"Like putting your hand in Fancy's private parts up to your wrist?"
Pause.
"I guess I have to handle some of the gross things."
"Right.  I've got the births and you've got the deaths."
"Right."  And he trudges off to do turtle duty.
Marriage is built on these arrangements.
Good-bye, Myrtle. We'll miss you.
And welcome, new, unnamed-as-of-yet baby goats!
It's been a busy few days.
(And, in case you aren't familiar with Satie, here is a youtube version. It's a beautiful piece of music, and Luc's right, it's just right for Myrtle.)