We've been digging around the internet lately for some new games. Because, holy cow, will this cold weather ever stop? 80% chance of snow AGAIN today. We've been hunkered down in the yurt for what seems like forever, and immersing ourselves in the fabulous art of a new game has been a great way to get a vacation from the stir crazies. And by art, I mean ART. Some of these games are simply gorgeous.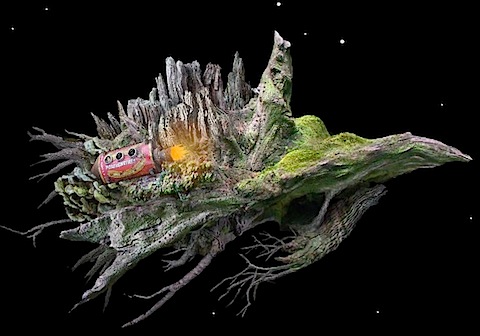 Samorost is a regrettably short, rich, quirky, funny, surprising, flash (meaning you play it on the web for free) game. The kids and I spent an enjoyable hour or so playing it yesterday. It's a point and click adventure game where you're trying to change the course of one living space-ship, to keep it from plowing into another. More than the plot, however, Samorost is a mysterious and cool world with funny puzzles to solve. I see that there is a Samorost 2. Something for us to look forward to!
Samorost is by the creator of Machinarium, a more recent game that is amazing to look at. Here's a shot from that one: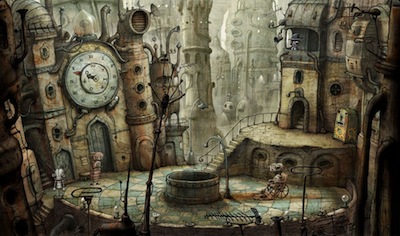 The art begs for long looks—which is good, because I tend to stay on one screen for a long time. I wouldn't say that Machinarium is a great game to play with little kids—too hard—but it is fun to explore with them, walkthrough by one's side. I am not above judicious use of a good walkthrough! It's cool to see how the artist's style carries forward and deepens in the progression of his games. Just as it is with an artist who hangs his work on a gallery wall.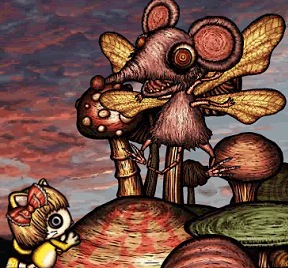 Hanamushi: Flower Insects—This is another gorgeous, creepy and cute, puzzle game, that the kids and I found and spent a goodly time fooling around with. We figured out about half the puzzles on our own, but needed some hints for several of them. The quirky, weird art and creepy, but somehow friendly, characters kept us going until we all were hungry and had to pee. You know you're engaged when you forget your bodily functions! We just really wanted to see what the next area would look like! There are also some strange-in-a-good-way youtubes from the artist you can watch, as well as an art gallery, but mostly we played the puzzles and talked about the pictures, making up explanations for their odd behavior. A great afternoon. Improved by snacks.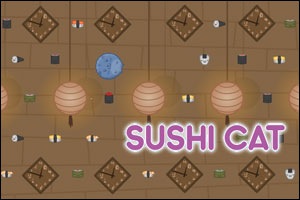 Sushi Cat —Compared to the previous mentally challenging puzzlers, this game is pure fun. Basically, you drop a gelatinous fat cat from a pair of chopsticks down through a pachinko sort of arrangement of adorable sushi. The cat eats, the cat becomes fatter—what can I tell you? It's fun! And the incredibly cute, smiling sushi, done in anime style, make me want to eat a couple of trays of the stuff.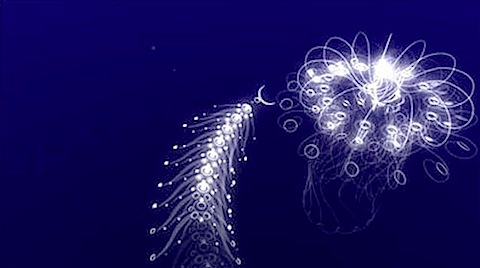 Flow —There are a bunch of these games where you are some kind of critter and you go around in a liquid-like medium, eating everything smaller than you, and growing. Tasty Planet is a funny one. Spore is a big ticket one. Flow is a flash version with intriguingly simple, yet beautiful graphics. Fun for a bit, and when you're done with that one try…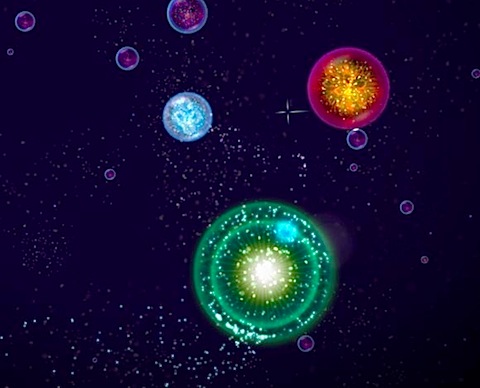 Osmos — This one is a combo eat-and-grow-big game and a puzzler with simply gorgeous graphics and lovely music. The big thing here, though is a complex physics that involves momentum gained through loss of self-substance…that is, the more/faster you go, the smaller you get—and the more you push things with your jet stream. But the smaller you get, the fewer pretty orb-thingies there are that you can eat. Quite a balancing act—it makes you think. Very cool to watch the kids work these screens out. (We got our copy through Steam.)
I've noticed that playing puzzlers has been working on our brains. They cultivate a way of thinking, a willingness to problem solve by trying any weird combination of things drawn from what you have on hand—a flexibility in the application of solutions. Sideways thinking. I hear people saying "video games rot your brain," but I don't think those people are actually playing them. Maybe they are still thinking of games as they were twenty years ago, pixelated blips. Today's games teach you how to think. I really believe that.
The other day I was milking the goats and Mochi, our cat, kept bugging the goat in the milking stand—she really wanted some milk—so I asked Sophie if she could get Mochi out of there. Sophie carried Mochi out, but Mo ran back in. Sophie carried Mo out and closed the barn door. Mo darted back in under the barn door. Sophie carried Mo out, closed the barn door and put the feed container in front of the crack. Mo wiggled around it. Sophie opened the feed container, got out a handful of food, and fed it to Mochi, one piece at a time, stalling her until I could finish the milking. It worked! Level cleared! I gave Mochi some fresh milk, and Sophie and I went in to the next screen, I mean, next activity. But I was impressed with how Sophie stayed with it, trying this solution and when that didn't work, trying another. She never got mad at Mochi, just kept trying a new solution. Maybe if you do it this way? Maybe if I use the [object] upside down? Maybe if I…?
I started my game-life playing a pixelated Jumpman on my Commodore 64.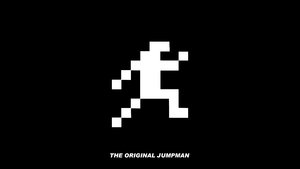 I loved Jumpman.  I know, I'm a dinosaur!
But games have grown up, too. They've become beautiful, when they want to be. Art in every sense of the word.  Art that makes me think.
Buy my books!

Children of the Fallen, now available on Amazon.


The haunted and talented children of the glorious and terrifying...

Toby Streams the Universe at amazon.

A psychic in the big city, trying to stay sane....

The Violin Maker's Wife at amazon.

Enchanted violins can be deadly....

Conjuring Raine, now available on amazon, B&N, and at Smashwords.

A girl, her vampire, his demon...

You can also listen to the Conjuring Raine free podcast. Enjoy!

coming next: The Lucidity Effect

Lucidity is now with the editor, woo hoo!

upcoming book releases

"Dusi's Wings" April, 2003. . . . "One thing fantasy can do for us is to give shape to the mysterious in the world; another is to make emotional yearning concrete. The early sections of "Dusi's Wings" do just that...there was a strong grasping towards the spiritual in fantasy here that was very promising, and I look forward to reading more by Lassiter." --review, Tangent Online.