Is she not the cutest thing EVER?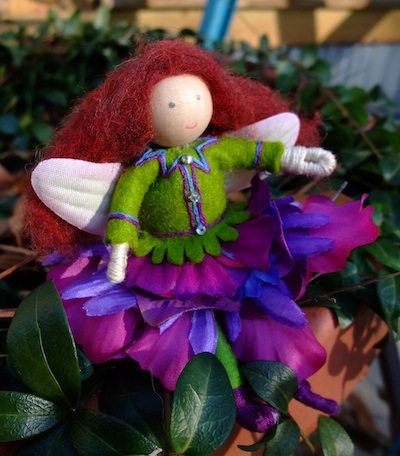 That's right, I embroidered those tiny stitches, I sewed on those tiny silver buttons, I did that. They are coming to take my Bitter Card any minute now. I don't care. Okay, I care a little. But can you see her tiny purple boots? Or her green legs? That's wool fluffy stuff for her hair. I can't BELIEVE I made her. Sophie helped, of course, and is currently making her own fairy, as this one was our first effort using the new fairy template, culled from the marvelous book Felt Wee Folk , no I'm not kidding, it's really called that. Now that we have the technique down, Sophie is on her own, wrapping embroidery floss around chenille stems, a.k.a. pipe cleaners, but whatever. I can't believe how often I am saying "Isn't this CUTE?" without a trace of irony. It's just…bizarre.
Oh, and look at this: Sophie and her aunt Carroll made some amazing fairy furniture for this cutie, using our newest craft acquisition, a glue gun.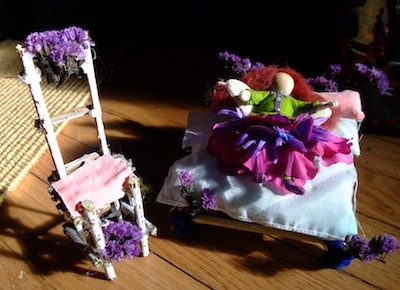 How did we ever live without a glue gun?
And so it goes. Now they are talking about a fairy house. "One that isn't temporary, Mom." Sounds like a project for Paul. I'm too busy embroidering tiny fairy tunics (!!!!) to build a house.
What is happening to me?!?