Those Weather Men & Women are getting really good at their jobs. They told us it was going to start snowing around noon, and darned if it didn't start snowing right on schedule, huge, fluffy feather flakes, coming down like gangbusters, just as we were driving home from the toy store at our local mall. We had timed it to be coming home for lunch, in case the promised snow materialized, and one minute we were driving along with nothing, then poof, SNOW.
The second we pulled in, the kids exploded out of the car, screaming with happiness. It's hard not to join in with such joyful, infectious madness. I mean, they just went mental, running around in the feather storm, shouting, trying it out standing, running, sitting, lying down, eating it, whatever. Snow, Mom, look! It's SNOW!!!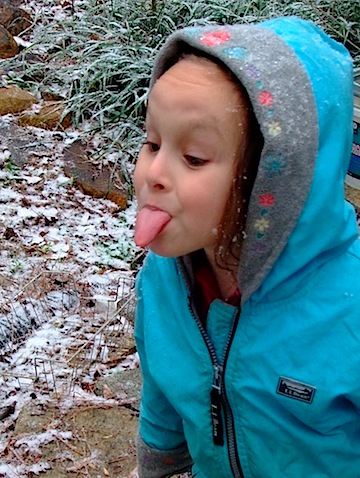 We decided to go for a walk. Mochi the Cat, decided to come with us, perhaps to keep us safe from this crazy stuff that totally spooked her at first—this was her first snow, after all—but became just another play item by the end of the walk. I was impressed with how quickly she figured it all out.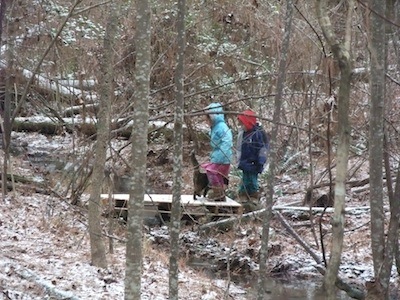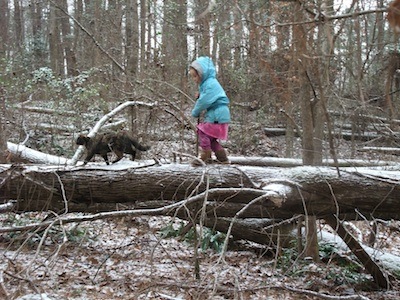 Sophie and Mochi are climbing on one of the many downed trees in this spot, evidence from a huge hurricane a decade ago. I thought they looked quite pretty with their white tops, decked out for the holidays.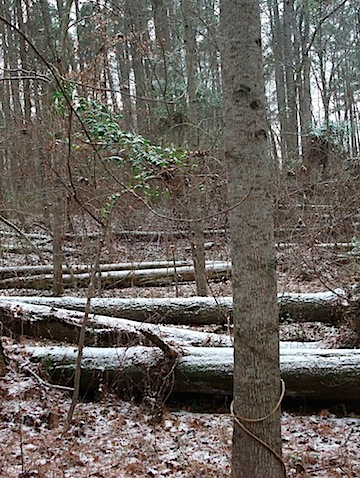 Luc decided he would try eating the snow, too.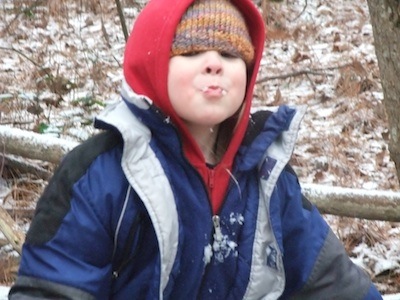 What is it about snow that makes people want to eat it? The three of them, Sophie, Luc, and Mochi, were all bent over licking the downed trees at one point. I wanted SO much to get a photo of that, but I wasn't fast enough.
Next, Luc took some pictures.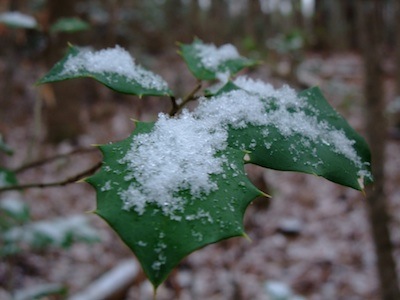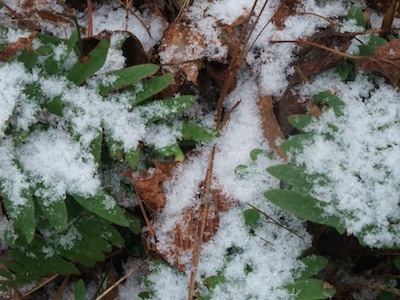 Here's his sister, always a moving target.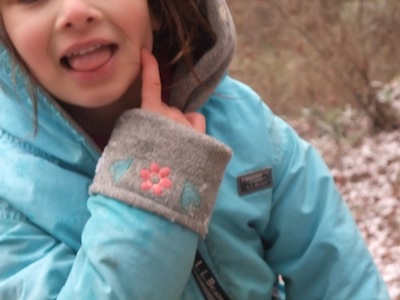 The gnomes, committed to their work, refused to take the morning off.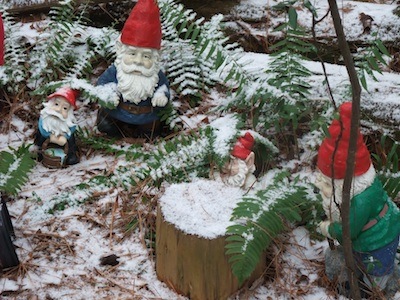 Happy Solstice tomorrow! It may be the first day of winter, but it sure looks like winter out there to me, today.