Sophie, 5, just took a leap in her brain somewhere. You can see it in her drawings, which suddenly, within the space of a week, have developed foreshortening. Look at this one, she calls it Angel Kitten:
It's so cool when their brains take a jump in ability, in conversational complexity, or getting more complex jokes, or telling more complex jokes. Suddenly things in Sophie's drawings can be behind other things. Stuff can be 3-D What does that mean in her psyche, I wonder?
Luc, just turned 4, has had a similar leap at the same time. Suddenly I can recognize what he is drawing—that is, his drawings now look something like what he means for them to look like. Here is his version of a cat: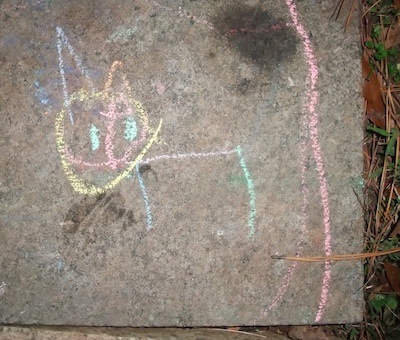 Last week, he couldn't have done that. His 'cat' would only be cat in his eyes.
(I love how he makes one ear orange and one ear black, just like our Mochi.)
Little brains make leaps and bounds according to their own, mysterious, inner timing.