A while ago, back when I first got my ipod touch (how did I ever live without it?), I wrote a post about gaming on the ipod with my kids. (ETA: for part three, go here.) At the time there seemed to be very little out there on games for little people, and few games they could play. As with everything in the ipodverse, this has completely changed. Now there are TONS of games for little kids. Clearly I was not the only one to realize how awesome a platform it is for small folk!
Anyway, I was purusing my google stats the other day and noticed that that old post gets tons of traffic from google! I thought to myself, hey, self, there are other parents out there, trying to sort through the millions of ipod apps. Lets write a follow up! So here you have it, a parent's quick review of nineteen more games for the ipod/iphone, as enjoyed (or not so much) by a five year old and a three year old. And a thirty eight year old. Ahem.
Get ready, get set, GO!

Blowfish —For those of you in a hurry, I'll start with our most popular game (though the rest will not be in any particular order). Blowfish is a very simple game—you hold your finger down on the screen to create, and inflate, a puffer fish. Meanwhile, spiny sea urchins careen off the boundaries of the screen. If you're inflating a fish when the urchin bounces into it, the fish pops. Ouch! The goal is to cover 70% of the screen with fish. Each level increases in difficulty with the addition of one more bouncing urchin. Both the kids love this game. Heck, I have a good time playing it, too. Maybe it is the funny faces the fish make, or the strategy of containing the bouncing urchins with fish bodies. Who can define fun? Thumbs up.

Tamagotchi —This game is extremely cute. The art is funny and adorable and engaging and that makes us want to like this game. But the game design leaves something to be desired. Not an intuitive game. And hey, I'm happy to read intro's and directions, to sit and play with the kids when a game requires it (although most of these games do not), but even reading the instructions, it is really hard to figure out what we're supposed to do. We spend a fair amount of time poking things and trying to figure out what the games wants of us. Not good. Having said that, the game engaged us for longer than some of the very simple games that I would call a success. It's definitely got some good parts. For example, the kids think it is hilarious that you can get the tamagotchi to poop (s/he sits holds up a newspaper, and is all happy when s/he finishes, lol). But a game should not be frustrating. Maybe future updates will fix some of this, but for the price, I'd say pass.


Skyburger and Scoops —These are separate games but very similar: food falls from the sky and you build an increasingly high, wobbly, creation by tilting the ipod to catch it. Burgers or ice cream cones, both are enjoyable, and the tall tale of ice cream cones that reach to the sky or burgers as tall as sky scrapers, is amusing. Both the kids play these games regularly.

Aquaglobs —This is a fairly intricate puzzle game where you draw connecting lines between like critters, while keeping different critters from running into each other. You lose a life each time there is a collision and the goal is to stay in the game as long as you can, until you're lost all your lives. It's too hard for Luc, but Sophie is intrigued by it. We tend to pass game along. Luc starts the screen while it is very easy. He hands it to Sophie who manages for a while. I take over when it gets too hard, so this game works for me, too. Then it gets too hard for me and I die. Game over and we start again. Sophie says this one makes her brain work. Thumbs up.
Now for a theme, three Japanese-styled games.

iBonsai —Is a lovely 'game' where you grow a 3-D bonsai tree in a minute. As it grows, it grows away from wherever you put your finger, so you can direct it and shape it. Once it's done growing, you can rotate the image to see it from any angle, zooming in and out, and shaking the ipod to make the leaves fall off. Beautiful and intriguing. When we first downloaded this one, Sophie sat and grew trees for about an hour, totally engrossed. I think it took her that long to try all the variables. She's only picked it up a few times since then. Luc will grow a tree or two and then he's done. Thumbs up.

Tanzen —This is the classic tangram puzzle with an elegant interface. Luc likes it a lot. Sophie hasn't been interested, but then Luc is my puzzle guy. He adores jigsaw puzzles, tangrams, anything where you fit pieces together. He has a bit of trouble with the interface (rotating the pieces is a two fingered maneuver that he can't quite manage) so we tend to play this one together. I would guess that as his fingers get more agile, he'll be more interested in this game. Thumbs up if you like tangrams.

Zenbound —This is a very intriguing game where you wrap string around a wooden carving by rotating it in any direction using two fingers. The string puts paint on the sculpture and the goal is to cover the sculpture 80%. The art is detailed and lovely, and the controls are complex but intuitive. Sophie likes this one. She got up to a level that was too difficult and quit playing, but recently I noticed she was playing it again, starting back at the beginning. The controls are a bit much for Luc. I played this one a bit when we first got it until the spinning of the object when I rotated it made me feel a little nauseous. Paul says I have a delicate constitution, har har.
Now for some drawing programs.

Trippingfest —This is a very cool drawing program that Luc adores. You can make all kinds of crazy patterns and effects. I recommend clicking through to peek at some screen shots to get the idea of it. Sophie, who likes to draw representational images, doesn't care for this one as much. It's more for abstract images, which are more up Luc's alley. I don't have much more to say except thumbs up.

Cartooning for Kids —This was a great app providing two afternoons of step by step drawings of funny cartoon characters. The kids really enjoyed it. Both of them sat down and worked through the whole thing in two sessions, side by side.
Here they are, ipod between them, listening to creator Richard Galbraith's friendly Aussie voice explaining how to make a funny snail creature.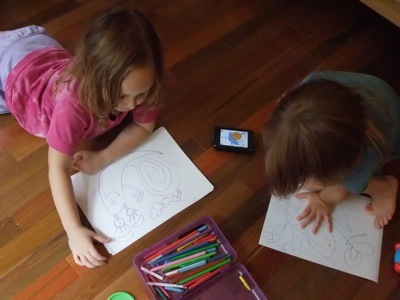 And here is Sophie making an angry duck.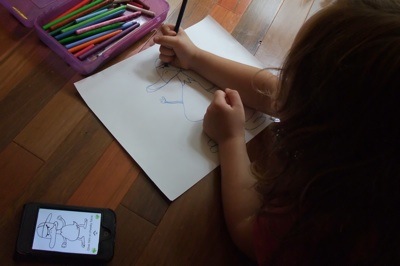 Mr. Galbraith has such a supportive attitude as he takes them one bit at a time into the details of making cartoon faces "come alive." Luc, who sometimes is quite shy about how his drawings don't come out as 'fancy' as Sophie's (the cross of the younger sibling is always to compare oneself to someone who is more developed!) was really able to stay with it and do his own drawings, which I found delightful. And I've noticed that some of the lessons have stuck—Sophie has been using eyebrow angles and pupil sizes to put certain emotions into her drawings lately, and I think it came straight from this app. It hasn't gotten any repeat play—I think once they went through it, they were done—but for your entertainment dollar, as terrific bargain! Many thumbs up.

Spinart —Sophie loves this one, Luc likes it. It's exactly like the spinning machine that you drip the paint into, except, you know, no paint. Quite fun. You can also draw with splattery paint lines without spinning it. I had a spin art thingy when I was a kid—I don't remember getting to use it much though. I think we ran out of supplies and didn't restock or something. Anyway, this is just about an intriguing as the live action version, not quite, but close. Thumbs up.

Doodle kids —Finally, we have this one, a very simple drawing app that Luc likes to play with pretty regularly. It offers a black screen and when you draw with your finger, you get 'lines' that are made out of multi-color shapes. You shake the ipod to get a fresh screen. Luc loves to write his name in glowing shapes. "Look, Mama, L U C!" This game has the distinction of being created by the youngest ipod developer in the world, a nine year old boy in Singapore, a fact the kids like. Makes me wish he had charged .99 cents for his app, instead of offering it for free.
Now for one more theme, so called 'educational' games. I usually avoid these because they are often incredibly boring, pedantic, and condescending. But here are three that got some play around here.

Cutemath —This one has a half dozen little number-related activities. Sophie played it through and has actually returned to it a couple of times. Luc just got interested in the counting games, but isn't interested in the adding or subtracting activities. Sophie has never been forced to "do math" and so it's all a game to her. I explained 'plus' and 'minus' in about one sentence each and showed her on my fingers, and that was enough. She went off and played for awhile, enjoying the animations that go with the math.

iWritewords —This one has lively graphics inviting you to trace the shapes of letters to form a word. Luc really liked this for a while and still will play it when an update has provided new words to trace. After you trace all the letters, you tilt the ipod to 'flush' them down a whirlpool drain. He likes that part. Sophie really learned the letters from Sesame Street, but I would credit this game as the source of Luc picking them up. Thumbs up.

Dot 2 Dot —For a while Sophie was really into dot-to-dot books, so of course I went to see if there was an app for that. There is. Dot-2-dot is basically a dot-to-dot book with about twenty patterns to solve, and a handful of colors to draw with. Once you've drawn them all in, you're done. For a buck, it's twenty minutes of entertainment and number recognition.
Okay, enough of the schooly stuff. Back to some games!

Flyloop—This game has pretty pictures and pretty music and involves drawing a loop around like-colored butterflies. It's fun. Too hard for Luc (those butterflies are fast!), but Sophie has played and enjoyed.

Kooleido —This is a cool looking kaleidoscope that creates repeating image patters of your choice (hexagon, rotating, ten point start, etc) out of many beautiful photos. The best part, though, is you can use your own photos. The kids had a ball one afternoon making kaleidoscopes of their own faces. "Look, here's one with only noses!" You get the idea.

Topple 2 —This is like tetris with faces on the blocks. Only you don't have to fit the pieces together, just pile them up. Only watch out, the physics of the game will cause the blocks to slips and fall, tumbling over if you don't place them carefully. The early levels are a blast for the kids, but after about five or so, it gets too tough. Time to restart. Luc can't do the block rotate, so he's less interested, but Sophie gets into it every now and then. Thumbs up.

Triazzle —This is is a really fun puzzle game, where you match the sides of triangles to each other. When you get them right, the butterflies and frogs animate. It is a beautiful game to look at, and you can dial the puzzles in to the exact level of difficulty you want. Including very simple for kiddos. Sophie loves this game. I get into this game, too, in that way that solving a puzzle can be relaxing and challenging at the same time. Definitely recommended.
Some games we've tried that went bust for us are Frogger (too hard, too fast), Wild West Pinball (too hard to figure out when to flip the flippers, too static, maybe), Mazes (if you could draw the solution, this would have worked, but tilting the ball was too hard), iGlow (nice idea, but they were done with it in about a minute), Colorama (too hard to get the colors where you want them), Toki Tori (I'm not sure why this one didn't catch on, it looks cute enough. Sophie says it was boring.) and Puzzlings (boring, boring).
Well, there you have it! Happy app hunting!  (See more of our ipod touch game reviews here.)