We have completely, and thoroughly, moved in, FINALLY, to the Noah House!
[cue cheering!]
That is to say, we haven't moved out of the yurt, we're just…spreading. And in case you don't know what I am talking about, here is the beginning of the story of recycling a tiny house, the tiny house my cousin Noah built, and, more recently, here is a picture of how it looks from the outside.
But today I offer you pictures from the inside! With all our STUFF! I know you've been just aching to see these, come on, admit it.
Okay, without further ado, let's walk in through the front door. What do we see but….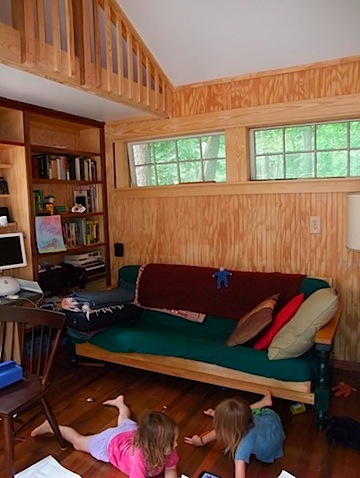 A sofa! And some kids! On the floor, coloring! And some book shelves! Ooo, ahhh.
For contrast, let's look at the view the day after the carpentry crew left: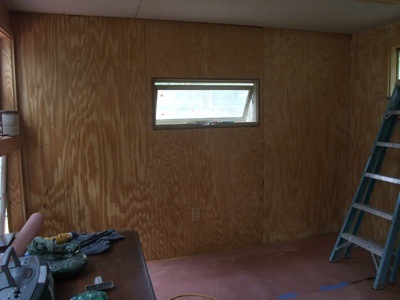 And here it is when Paul was about half-way done: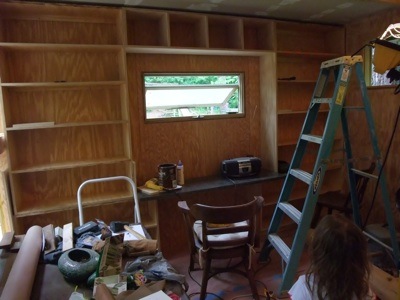 But now, it's a real room. With toys and books and computers and all my yoga props…I'm so happy to have a place for my yoga props, I can't tell you.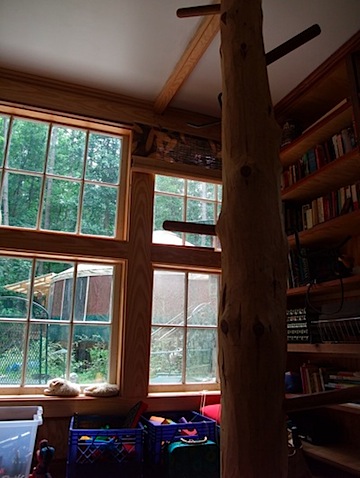 This is the view when I am sitting on that green futon sofa (craigslist, we love you). Look, you can see the yurt through the windows! And if you look a bit to the left, you see this: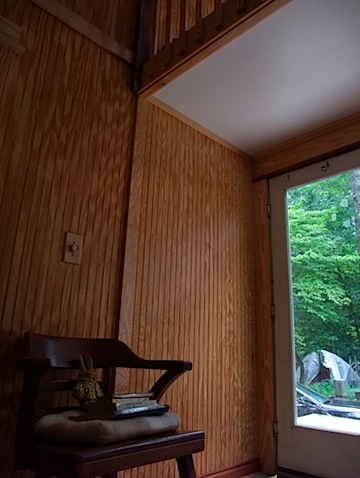 Lots of pine bead board and recycled cherry wood trim….
…and a little farther to the left, you see this: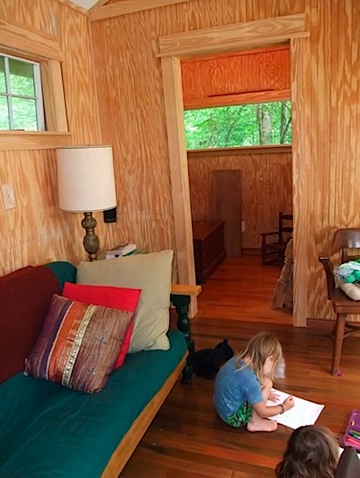 (UPDATE: for what happened with the little room to the side, visit here.) It's an extremely pleasant space. It's odd that it can be so small, 12′ x 12′, and still feel quite spacious, but it does, probably because of the height of the ceilings.
Because here is what I see if I look up: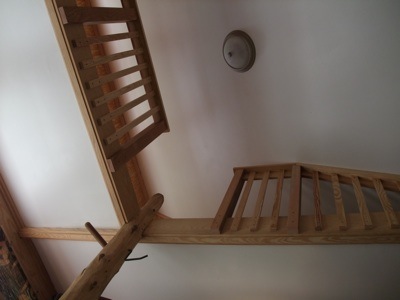 It's fourteen feet high at the top, because Noah wanted to be able to stand up in the loft. In a tiny house, design follows the physical body of the person doing the building.
But Noah, being the thrill seeker he is, used to sleep up there with no rails. Not so great for small kids. So, look at those lovely rails that Paul built so that Sophie could have a loft, and I could NOT have a heart attack every time she went up there. Aren't they pretty? The wood for the posts was left over from something else, stored for years now under the yurt. Paul says he cleared out a ton of old wood he had been storing, making all the trim. So whoopee for having less junk around, I say, not to mention the attractive price-point.
But really, I didn't realize trim was such a big deal. (Don't tell Paul I said that, because he used to be a trim carpenter.) Never the less, I can now say with confidence, trim is not just some wood slapped up in the corners! Trim makes the room. Trim is the trimmings, the details. And attention to the details is what transforms a space from a box to a lovely room you want to hang out in. I swear.
For example, here is the first step in the front door: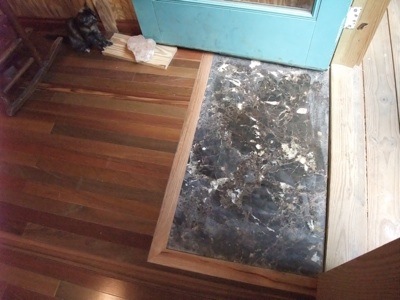 It's a piece of cast off granite, rescued from a dumpster, and framed by Paul in oak. The floor here is recycled walnut. Plus a kitten always helps.
It's gorgeous. Every time I step in, even if I don't consciously think about it, I take in that beauty. The more details like that, the more a space feels right.
Build a small square room and it could be a hovel, a dark cave, a boring box. Give it lots of exposed wood, windows on all sides with lots of them in the south, and tons of love in the details, and suddenly you have something else entirely. I really do think the lack of love in the details is the reason speed-built, mass-produced houses so frequently lack soul. When you build things yourself, and when you do it on a tiny scale, the details are all within your power and creativity. And that's a good thing.
Quick, before we leave, let's take a peek up in the loft.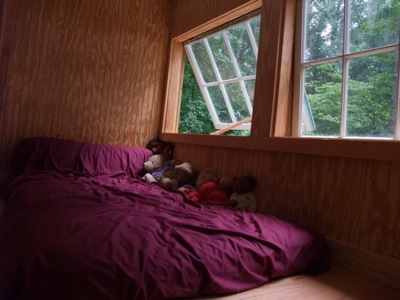 Sophie lined up a bunch of teddy bears to live under the windows. Sitting here, reading while it rains outside, is about the most peaceful thing ever.
One last view from the corner. Hey, where did the kids go?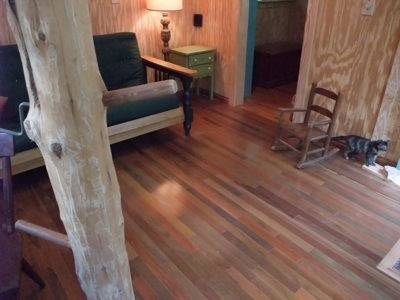 Oh, here they are.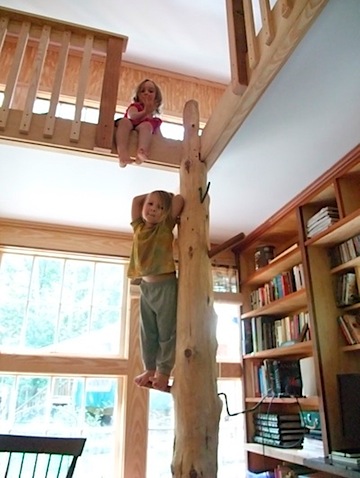 Keep it small, build it yourself, pay little or nothing for recycled materials, and make the details yours. You, too, can have a tiny, beautiful, personal, space.
Thank you, again, Noah.