Making yogurt is totally easy. But goat milk yogurt can be a bit tricky—it wants to come out runny, which is fine for smoothies, but not for that custardy sweet treat the kids love. I have tried making goat yogurt with different cultures (some unbelievably tart, some too gooey, some too runny), and I have heard of, though haven't tried yet, adding various things such as gelatin, pectin, non-fat dried milk powder, and rennet for firming it up. But lately, I've hit on a method that produces a smooth, thick yogurt, mild enough to need just a bit of honey and even my picky kids will eat it up.
Here's what I use: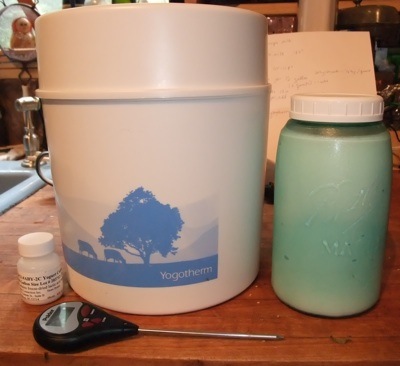 – A quart of goat milk.
– A digital thermometer.
– A Yogotherm, which is basically a yogurt-container-shaped polystyrene cooler for incubating the yogurt sans electricity. You could use a regular cooler plus a heating pad or bottles of hot water to add heat. The downside of that is you have to keep checking to make sure things aren't too hot or too cold, and I'm way too lazy for that. The Yogotherm just makes things really easy, and I use it for making chevre, too.
– And finally, see that little bottle on the left? That is my secret ingredient, a direct set yogurt culture, in this case, ABY-2C from the Dairy Connection (thank you, once again, Molly at www.fiascofarm.com for turning me on to this). I have found this culture to produce a thick, custardy yogurt without having to add anything else. Yes, of course, you can put in a few tablespoons of active live culture yogurt from the grocery store instead of a direct-set culture, but I'll tell you, I just haven't had good results with grocery store yogurt in my goat milk. I get runny, sour yogurt that way. Shrug.
You also need one of these: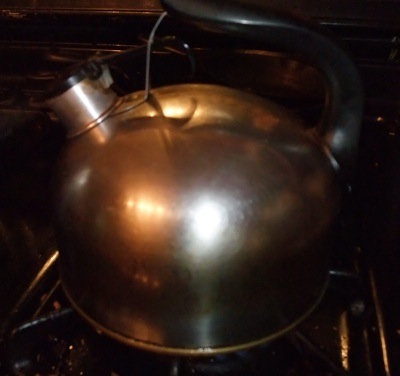 My trusty kettle! In service for twenty years and counting!
And you'll need one each of these: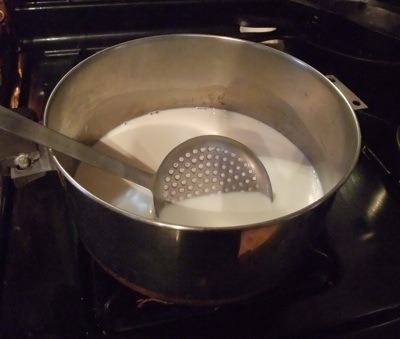 That is, a stainless steel pot for heating the milk, and a stainless steel spoon of some kind. I use my cheesemaking slotted spoon thingy.
Okay. Let's get started!
First you pour your quart of milk into the pot and heat it up to 180 degrees. This kills anything in the milk that you don't want to culture, leaving all that sweet, delicious, bacteria medium that is warm milk for the good bacteria you'll be putting in. It also changes that structure of the milk proteins, making a smoother yogurt. You can also make yogurt with raw milk if you are really, really confident that your milking practices are CLEAN. I would never make raw milk yogurt from goats that were not mine, just because I would be able to be sure, you know? And eating bacteria food is weird enough without wondering. You don't want to be wondering with your yogurt.
Stir your milk frequently, so as not to scorch it (yuck), and measure the temperature often.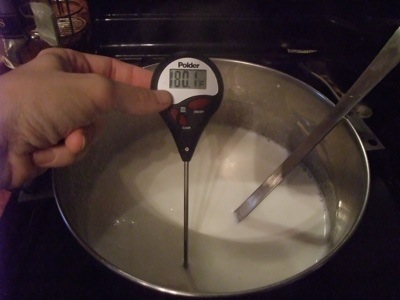 180! Bingo!
Now you wait for the milk to cool back down to 115-117 degrees, the temperature that the yogurt culture thrives in.I use this time to boil water in the kettle (you were wondering what the kettle was for, weren't you?) and pouring it into the yogotherm and on the inside of the lid to get it all sterlized and prewarmed.
Okay, 115 degrees. We're there….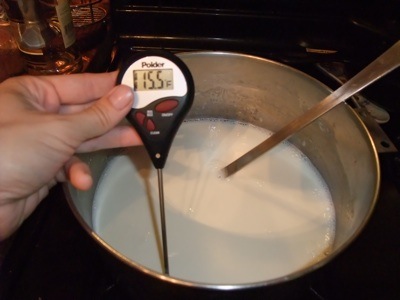 Next, sprinkle in 1/32 teaspoon of the direct set culture into the milk and stir it around. Yes, they make measuring spoons that small. I have some stainless steel sppons I picked up for 2 bucks. You can eyeball it, of course, but I like to be precise with as many variables as I can, so I can figure out what went wrong when something does. Especially when dealing with bacteria. For example, you find that your yogurt is too gloopy, try using less culture, something easier to do when you know exactly how much you used. A teeny tiny dab is really all it takes for a quart of milk.
Did you know that 'smidgen' is the official name of 1/32 of a teaspoon? Really! Look, it says so right on my spoon.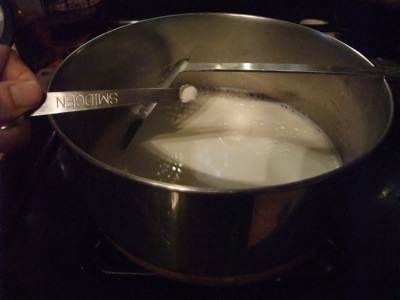 Moving right along, you pour the inoculated milk into the yogotherm and close it up.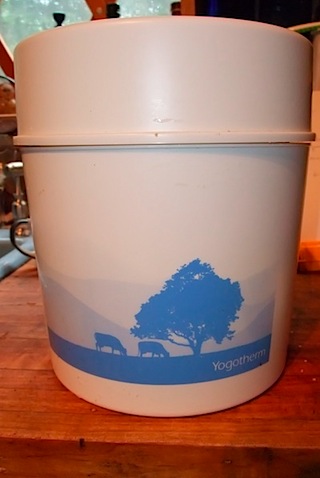 Six or seven hours goes by so quickly! All the while the bacteria eat the sugars in the warm milk and turn them into acids. Weird, huh? Try to time it so your six or seven hours doesn't end in the middle of the night. Or, be like me and forget, only to wake up with a start in the small hours of the morning to go put your yogurt in the fridge.
But look, POOF, open it up six hours later and you've got thick, delicious yogurt!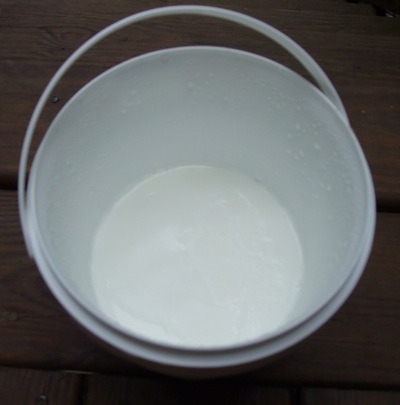 Try not to think about that whole bacteria thing, and instead, drizzle some honey on your yogurt and eat it up…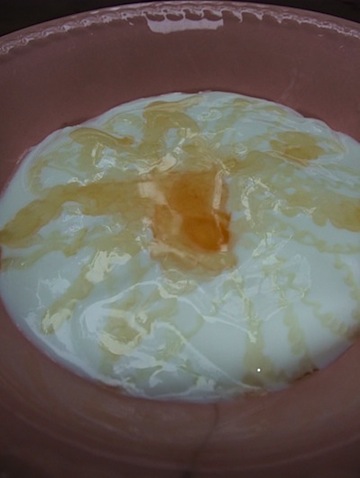 If it's still not thick enough for you, you can drain some of the whey out using a coffee filter set up, which is how they make greek yogurt, like that Fage stuff. I love that stuff. Making my own is a heck of a lot cheaper, what are those little Fage containers, like two bucks or something? Yikes. And hey, if you drain the yogurt a bit more you get yogurt cheese, which you can use for all kinds of things.
We eat tons of yogurt around here. Sometimes I think Luc is about 47% composed of yogurt. It doesn't seem to be doing him any harm.
Enjoy!