About a week ago, Paul heard a squeaky sound coming from somewhere outside and traced it in the dark to a tiny black kitten, hiding in our storage heap shed.
"No, no, no!" I said, when he reported back. "Absolutely not!"
It wasn't that long ago that I was hanging out with poor old Chopper while he died. He was the last of the five cats, a (very) young momma cat and her four kittens, that I took in when I was in my early twenties. After Chopper went, along with his fleas, I swore I was not doing that again, at least not for a while. A long while. It's all great and fun when they are tiny cute things, but it is freaking HARD when they get old, and are dying, and are breaking my heart. "Besides," I said to Paul, voice tinged with hysteria, "I've got enough to deal with, enough people I'm taking care of, and you know the care and feeding of this cat will fall to me, you know it will! I'm not doing it!"
Remember the first time they showed Bob from Twin Peaks? If you watched that show, you know the moment, I think it was in the first ep, the moment when the crazy mother of Laura Palmer remembers her dead daughter's room, and then suddenly remembers the face, Bob's face, the man Laura thought was sneaking into her room and raping her for years—a strange man's face in her dead daughter's room, where no face should be! They show the room in the mother's mind, and there is nothing strange, it's empty, no one is there, what's the big deal? And then you see it again, panning through her memory of the clutter of a teenaged girl's room, panning, panning—
—and then Whammo! A barely visible face pops out of the gloom—it was there, but you didn't see it before—and it's staring right at you, out from under a freaking desk, oh my god, where did that face come from??? The mother's mental breakdown when she realizes it is so creepy. I couldn't think about that scene for YEARS after I saw it, and never never at night, never think of that moment at night, never because there could be a face in my very own room, no no no, don't think of it—
[Crap, I just spent way too much time trying to find a screencap of that moment, but no go. I may try some more later, now it's like a vendetta, or maybe some post-traumatic-stress-disorder healing opportunity for me.]
Anyway, here is the Bob shot of the new kitten…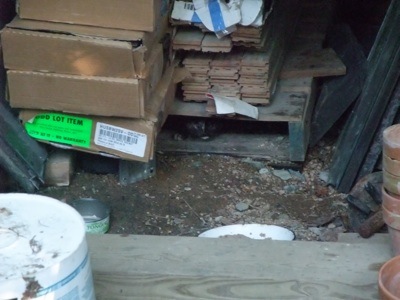 Can you see her face in the gloom under the pallet? Only instead of terrifying, she is terrified. Her little tail is just quivering and she keeps darting back under the pallet and generally looking as Pitiful as is Kittenly Possible.
[What the heck, you may be asking yourself, was all that Bob stuff? Maybe it is my fear of kittens, and their Alarming Cuteness, looming large and making connections where no connections ought to exist. But if you saw that moment, you'll know that the bob-kitten shot is just exactly like the bob-twin-peaks moment. I swear it.]
[And how, you may also be asking, do we know it's a girl, if she won't let us near? Apparently, according to Paul, there are no boy cats with black, orange, and white fur. It's like, a rule. Who knew?]
Here the kitten is again, sneaking out to get some food, which she finally started eating, her terror and brain numbing panic subsiding just enough to let her emerge from the labyrinth of junk to get a bite or two before dashing back for cover.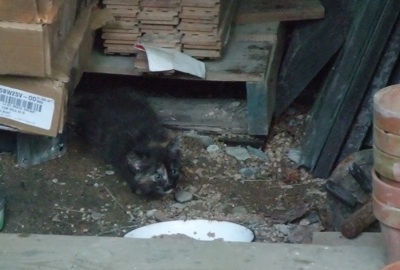 So, yes. I fed her. Bob-Demon-Kitten that I know she is. Drat her nefarious plan to soften my heart! Yes, she is this tiny, cute, terrified ball of fluff. Yes, I carried her food and talked to her panicked meows for three days before she would come out far enough to eat. These photos come after days of coaxing and tempting…. Yes, she now comes out when she hears me coming. Yes, she is taming me as much as I am reluctantly taming her. Yes, yes, yes.
Crap.
And now that the kitten will come out, ever so hesitantly, to eat, Sophie will sit perfectly still on a bucket for thirty minutes, talking to the kitten, telling her what a wonderful life she will have living in our goat barn (if we can ever coax her there—it really would be much nicer for her than the junk shed), and how she will have lovely goatie friends, and fresh goat milk, and lots and lots of mice to catch, if only she will trust us, because we are really very nice and don't want to hurt her….
I guess we have a cat.
Sigh.
How could this have happened? I was so sure I would be strong and say no! I was going to Put My Foot Down.
I'm such a wimp.
Buy my books!

Children of the Fallen, now available on Amazon.


The haunted and talented children of the glorious and terrifying...

Toby Streams the Universe at amazon.

A psychic in the big city, trying to stay sane....

The Violin Maker's Wife at amazon.

Enchanted violins can be deadly....

Conjuring Raine, now available on amazon, B&N, and at Smashwords.

A girl, her vampire, his demon...

You can also listen to the Conjuring Raine free podcast. Enjoy!

coming next: The Lucidity Effect

Lucidity is now with the editor, woo hoo!

upcoming book releases

"Dusi's Wings" April, 2003. . . . "One thing fantasy can do for us is to give shape to the mysterious in the world; another is to make emotional yearning concrete. The early sections of "Dusi's Wings" do just that...there was a strong grasping towards the spiritual in fantasy here that was very promising, and I look forward to reading more by Lassiter." --review, Tangent Online.

Recent Comments