We went to a garden art show last weekend at a local artist's home/garden/studio. Her beautiful land was filled with outdoor art pieces from a variety of local artists. The combination of the gorgeous grounds and the art was evocative and interesting for all of us.
Here is Pirate Luc by the entrance. "Mom, there's a girl in the water!"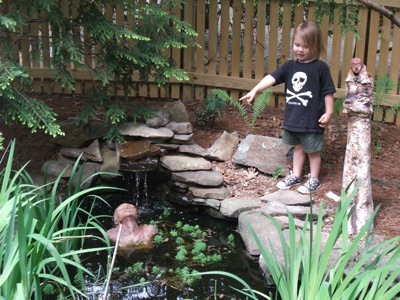 There was a fair amount of abstract work, like this marble piece…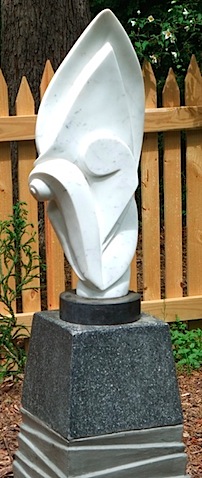 But I have to admit that I struggle to connect with abstract sculpture. I have Sensibility Guilt about this, like, I should be more sophisticated and enjoy non-representational, twisty-metal things, dammit. I try, but I just…don't. My artist aunt, who went with us, was drawn to many of these pieces, and saw things like bones and animals and sail boats and wind inside them. I would nod and try not to look stupid while she said these intelligent things, and she graciously didn't shame me for my ignorance. She's cool like that.
But there were lots of animals and people that looked like animals and people for me to enjoy without faking, woo hoo! And phew. Here are two that I liked…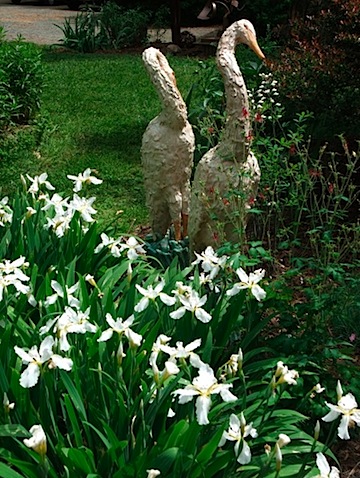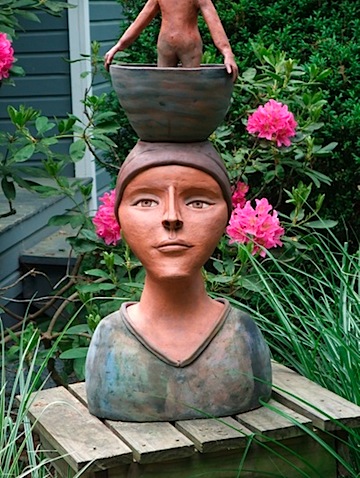 As you can see, the art was almost overshadowed by the gorgeous setting. The gardens were extensive and beautiful enough to make even the abstract pieces seem interesting to me. Kind of.
This one was Sophie's favorite.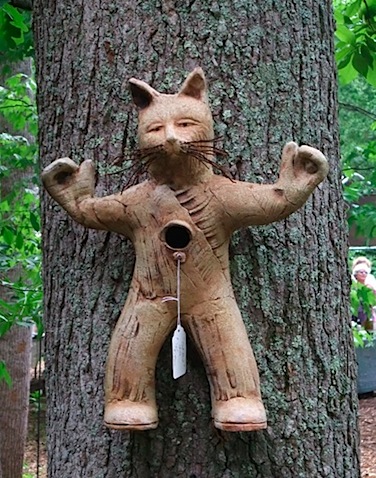 Second to the mini-cupcakes at the snack table, of course.
And here is Luc with one of the few pieces he made a fuss over.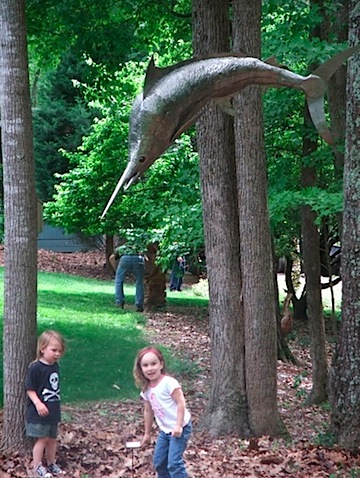 OMG, and this piece comes with a story…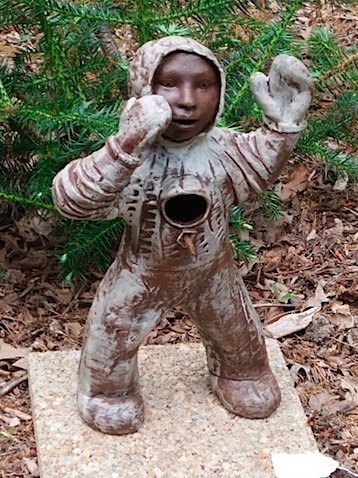 Luc was pissed that Paul had wandered off to take a few pictures and as we walked by this little person, he just reached out and bopped it on the back of it's expensive, ceramic head and KNOCKED IT OVER. I could have died! I put it back on it's little feet, and thank the goddess of yard art, it was unharmed. The artist came barreling over to us and I bowed and scraped and apologized and grabbed Luc and ran the hell away in shame. Oh well. The moral is: don't let three year olds get pissed at art shows. Or maybe bolt your art to the ground? One of those.
Here is a piece we were all impressed with…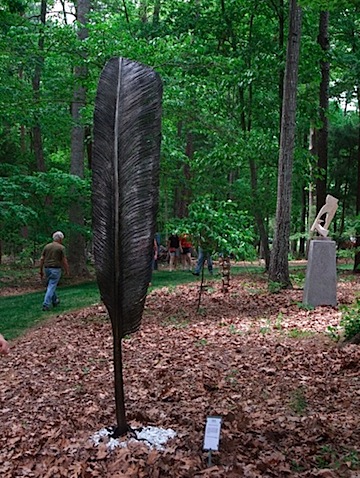 It's one of the few I noticed the name of, "Icarus." Here, look at the detail work…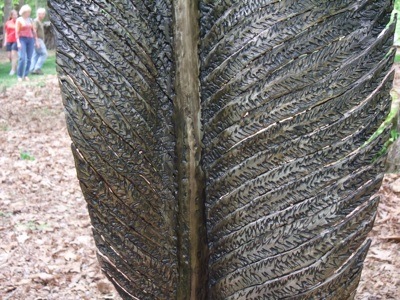 Amazing!
But the pieces I liked the most were these ceramic people of grace and beauty, people I would love to meet. Take a look…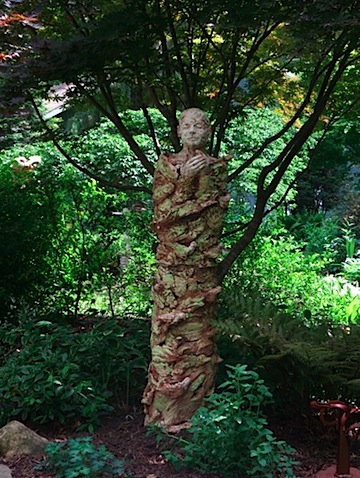 This person seemed to be emerging right out of the tree, covered, as he (she?) is by leaves and twined vines.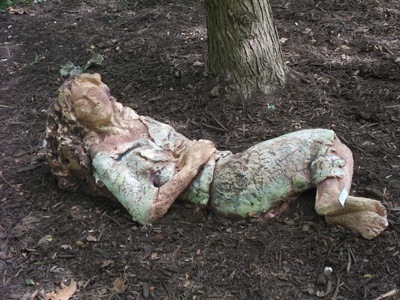 This gal looks so relaxed and at ease, it made me feel the same way.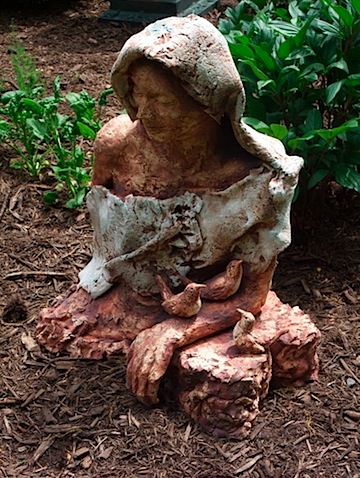 I love the small birds on this gal's lap. Who is she? I like her because she communes with wild things but doesn't burst into song. Not to mention her sexy, off the shoulder, peasant look. I've always wanted a shirt like this.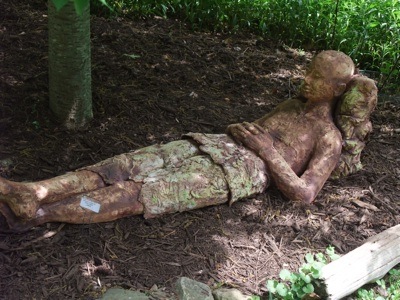 Another resting figure. I want to lay down beside him and take a nap…
These two are like many others, people standing in the sun, seeming so content to soak up the sunlight.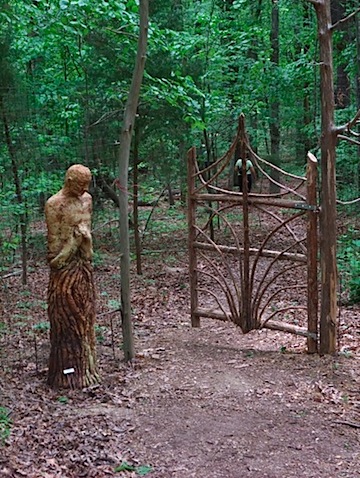 A gate guardian. Cool gate, too, leading to a lovely forest trail.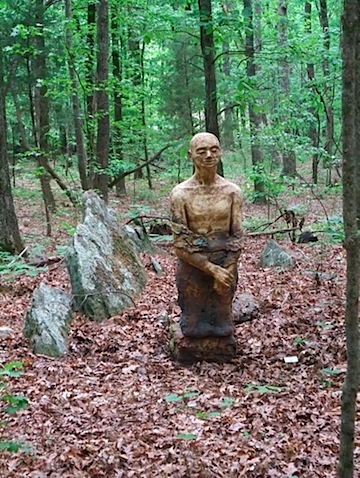 You can't see it well in this photo, but this fellow is kneeling. A monk? To what, or whom, does he pray?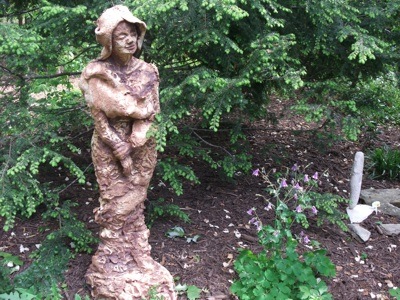 The columbines beside this one were a big part of the appeal.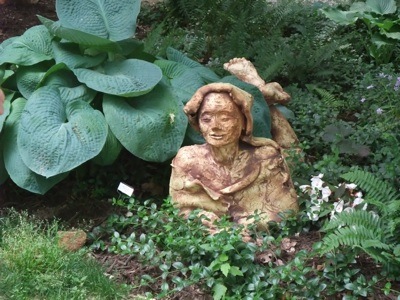 I just love this gal's face and and her feet, so casually kicking the air behind her. And look at that giant hosta!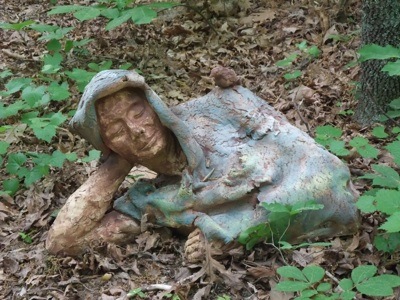 I imagine these people were at a show of Human Creatures, and they watched us and spoke of art, just as we watched them. I long to overhear their conversations!
I think some of these people have moved into my brain and are building homes in my next story….