Sophie turns 5 today. Wow!
I asked her if there was anything she remembered learning as a four year old, anything that marked being four for her, and she came up with this amazing list. The year Sophie was four she learned how to:
post on a horse and hold the reins with one hand
swing on the swing without me pushing her
write her name, and Luc's name, and my name, and Daddy's name
swing [hand over hand] on the monkeybars
do a cartwheel, and a backwards roll
And then she ran off to do something else, done with my lists. I could add a hundred more things, but I love that these are the things she thought of. Here she is a few days ago, in the last days of being four, hanging out in the yurt: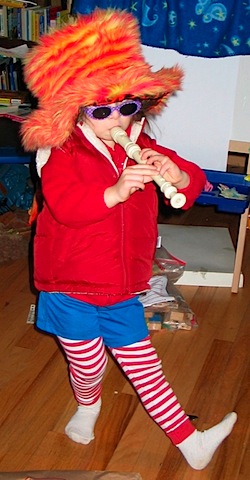 She is so cool.
Buy my books!

Children of the Fallen, now available on Amazon.


The haunted and talented children of the glorious and terrifying...

Toby Streams the Universe at amazon.

A psychic in the big city, trying to stay sane....

The Violin Maker's Wife at amazon.

Enchanted violins can be deadly....

Conjuring Raine, now available on amazon, B&N, and at Smashwords.

A girl, her vampire, his demon...

You can also listen to the Conjuring Raine free podcast. Enjoy!

coming next: The Lucidity Effect

Lucidity is now with the editor, woo hoo!

today's yoga practice

upcoming book releases

"Dusi's Wings" April, 2003. . . . "One thing fantasy can do for us is to give shape to the mysterious in the world; another is to make emotional yearning concrete. The early sections of "Dusi's Wings" do just that...there was a strong grasping towards the spiritual in fantasy here that was very promising, and I look forward to reading more by Lassiter." --review, Tangent Online.