A book can travel a long way with a person, physically carried through space, and psychically, carried in one's mind.
I recently finished re-reading, Dhalgren, by Samuel Delany, for, perhaps, the fifth time. Dhalgren is definitely one of those books.
Below is a picture of my old copy, at one time duct-taped together, now left with a grey, duct-tape residue, the back cover gone, the spine completely circular (like the story). I bought it when I was 15, out of a "5 for $5" bin in the back of the Second Foundation, an old hole-in-the-wall SF bookstore, now lamentably gone. This dingy paperback has been with me through a dozen moves, all my various relationships, cross country, through babies and marriage, and has been living lately, squished into the back of an overcrowded bookshelf, in the yurt. And with a sticker on the cover from "Interlude Books," presumably yet another bookstore, who knows how many hands it went through before landing in mine? Next to the old copy is the new copy that I bought last week, when the mold smell on the old one started making me sneeze (I still read the old one while in the bath—the new one was so pretty, I was afraid to get it wet.)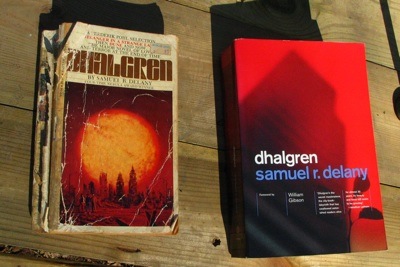 I remember sitting at my desk in my mother's house in Hawaii, reading Dhalgren (instead of doing some idiotic homework assignment that I have long since forgotten—now which was a better use of my time, long run?) reading it for the first time with the experience of having my head softly blown apart. I remember walking around my high school with various of its sentences stuck verbatim in my head. I remember that feeling of the world looking different to me, when I finished. And I don't think the world has ever gone back to its old shape.
This most recent reading, maybe ten years since the last time, I keep noticing things—thoughts, ideas, images—that have occupied my mind for twenty-some years now, things that I had forgotten came from Dhalgren, including fragments of images that have shown up in my own writing, or writerly moves I hadn't realized I had learned from Delany. Which is cool. This is a book that clearly takes a long time to digest.
The plot is simple—a young man with partial amnesia enters the burnt out remains of a city that has undergone some disaster, though it is unclear what that disaster was, and whether it was a human creation (riots are mentioned) or semi-mystical (strange moons appear in the sky, the topography seems to change, time seems altered). The young man moves through the landscape, meets people, has experiences, and leaves. But the events are not really what the book is about—how the cast of characters relate to each other and their world is more important than the events themselves. Race, sexuality (graphically portrayed—you have been warned), money, leadership, sanity, and art are some of the issues explored. The writing is gorgeous and complex. The story seems to fold in on itself, giving an experience of temporal shifting in the reader that mimics what the main character, who is possibly insane, experiences. The end of the book appears to be what comes before the beginning of the book. My mind folds in on itself with wanting to understand, always coming out the other side with a question instead of an answer. But this, oddly, doesn't feel like a problem, but rather a revelation.
William Gibson, in the prologue of the new edition, says Dhalgren is a riddle that isn't meant to be solved. I like that. But I would add that the impulse to solve the mystery of the book, the way the back of my mind has chewed on it for over twenty years—finding new meaning and depth with each re-reading—that action of engaging with the book, itself, changes the reader, has changed me. Like an oyster making a pearl, only in reverse—instead of covering over, something is exposed. Perhaps this action, my brain following the path of the book around and around, is the point.
With over a million copies and 30 years of availability (though it was out of print for a period in the 80s), Dhalgren is undeniably an SF classic, and Delany, winner of the Nebula (four times!) and the Hugo, is undeniably a classic SF author. But Dhalgren is also like some bastard child that SF loves to hate. With its wandering non-plot, over 800 pages, and no clear order of events, it is certainly… different from most of SF. Harlan Ellison famously declared, "I hated it! I threw it at the wall!" And it does have the reputation as a 'difficult' book. I don't know about that—to me it is compulsively readable. That probably says more about me than the book, but it must be true for some others out there, with such a long publication history. It is not a clean, neat reading experience, with ends tied up and points clearly made. It's a journey.
I highly recommend the journey.
And for fun, here is an on-line exploration of the book, based on the Dhalgren MOO of the 1990s.
If you've read Dhalgren, or are reading it now, I'd love to hear your thoughts.