Kids dig crafts. Want to hear that engrossed silence of kids making stuff? Here's a quick and dirty project:
Get a stack of felt squares from a craft store and a bunch of scissors. Designate a few of the felts 'backgrounds.' You might be able to get a few stiff pieces for this. Set the kids to cutting things out from the other felt pieces, or, if your kiddos are a bit too small for that, let them tell you whatever they want, and cut it out for them. Sit down on the floor with them and get all into it, cutting things out, arranging bits, offering suggestions. The little felt bits stick to the felt backgrounds, allowing them to make pictures that they can be adjusted and changed endlessly.
Here, look: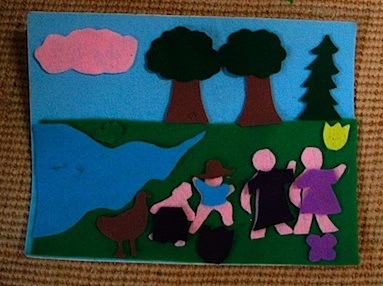 Arrange and rearrange….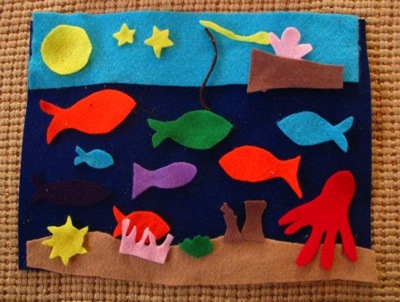 The kids adore being able to ask for whatever they want, and they're so happy to get a YES to every request. "Mom, can you cut out a pig?" Yes. "Mom, I need a big orange fish." No problem. "Hey, Mom, I want a spooky tree. Can you do a spooky tree?" Absolutely!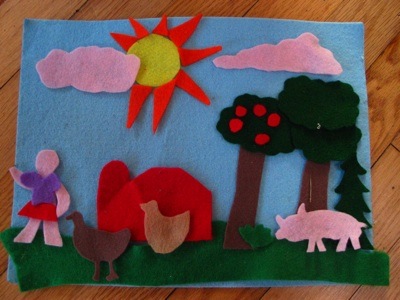 Here's a portrait Sophie did. She was extremely pleased at her scissor-work here.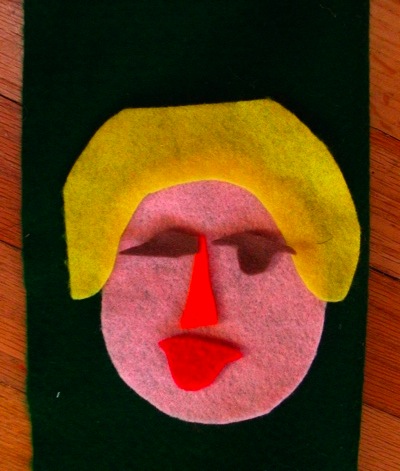 And pretty quickly, stories start to come out of the pictures, and the little felt people start to enact little felt dramas.
This picture became a whole saga about the lonely, spooky tree and the little person who lived across the river. After many misunderstandings, they became friends. That's when the addition of the bridge was cut out. "Mom, they need a bridge so they can visit each other." Got it. One bridge coming up.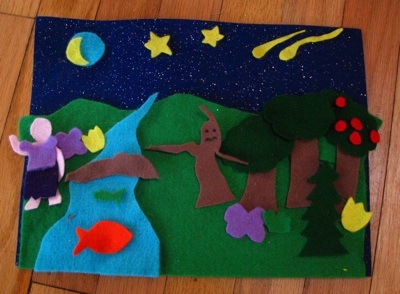 Don't be limited to the backgrounds: after making pictures for a while, the kids took various pieces and built up fancy 'cakes,' palm sized piles of elegant felt designs, for a dinosaur tea party. Perfect.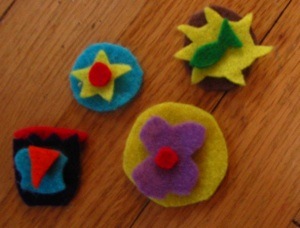 When they're done, all the bits and backgrounds go into a bag, to be pulled out for new pictures next time. Ta Da!
I am endlessly amazed at how creative these small people are!