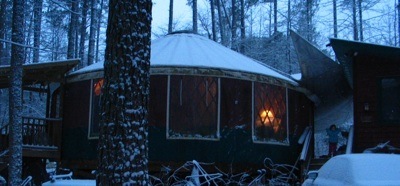 Six thirty this morning the kids are jumping all over me, "It snowed! It snowed!" A few minutes later I hear Sophie saying, "No Luc, you can't go out into the snow in your underwear." And I think, Okay, time to get up!
But their excitement is so infectious. If I walked outside and saw a fleet of hot air balloons go by, followed by a total solar eclipse, maybe my sense of wonder could match theirs. And the world is like that to them every day!
I know that for much of the country, a little snow is no big deal, but around here, there are winters we don't get any snow at all. A snow that actually sticks for a couple of days is a huge event. Snow party!
Here, look at this. And understand that the reason these photos are so blue is that they were taken before the sun came up, because these kiddos were not waiting for anything! I was lucky just to get coats on them.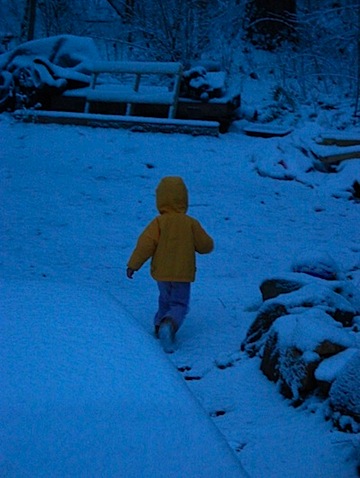 There he goes, running out into his first real snow, "Mama! Mama! Snow!"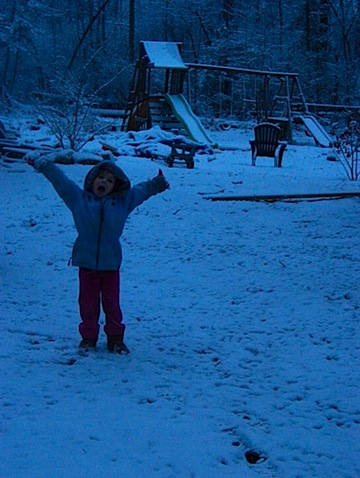 Here is Sophie, so happy that she is just squealing.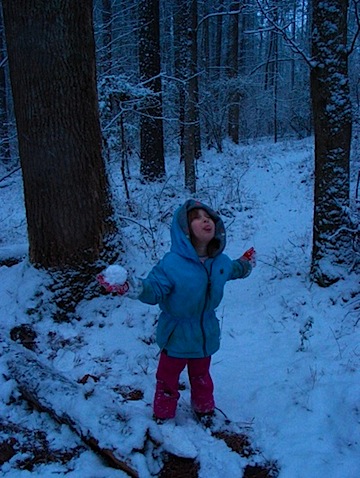 Here is Fancy, mincing her way over to the hay, indignant at the whole thing.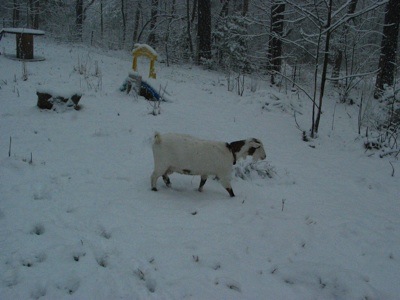 Here is Paul, heading off to work.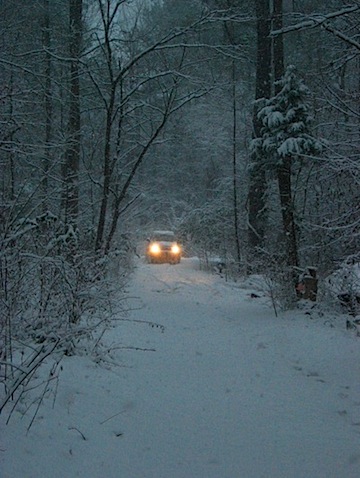 Here is the yurt as I head back up the path.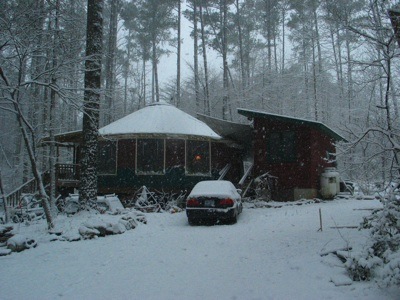 We're snug and happy today, drinking our hot cocoa. And it's still falling!
Snow is what yurts were made for.
Buy my books!

Children of the Fallen, now available on Amazon.


The haunted and talented children of the glorious and terrifying...

Toby Streams the Universe at amazon.

A psychic in the big city, trying to stay sane....

The Violin Maker's Wife at amazon.

Enchanted violins can be deadly....

Conjuring Raine, now available on amazon, B&N, and at Smashwords.

A girl, her vampire, his demon...

You can also listen to the Conjuring Raine free podcast. Enjoy!

coming next: The Lucidity Effect

Lucidity is now with the editor, woo hoo!

today's yoga practice

upcoming book releases

"Dusi's Wings" April, 2003. . . . "One thing fantasy can do for us is to give shape to the mysterious in the world; another is to make emotional yearning concrete. The early sections of "Dusi's Wings" do just that...there was a strong grasping towards the spiritual in fantasy here that was very promising, and I look forward to reading more by Lassiter." --review, Tangent Online.