My cousin, Noah, built himself a tiny house.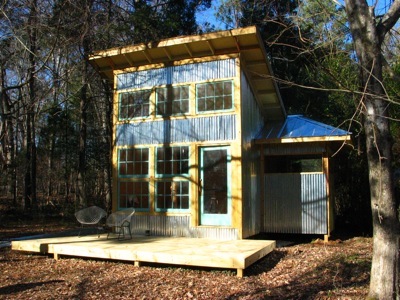 It's adorable and perfect for him. Let me tell you what happened to it.
But first, look at this: In a nearby botanical garden you can visit Paul Green's tiny house, where he supposedly wrote many of his plays.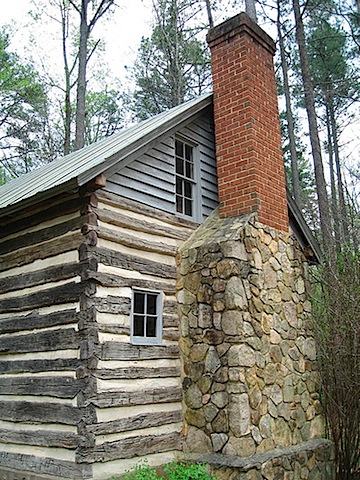 I love tiny houses! Maybe it's an introspective writer-type thing. There's a great book, A Little House of My Own: 47 Designs for 47 Tiny Houses that has pictures and plans for houses like Jefferson's Cottage, Henry Thoreau's Cabin and George Bernard Shaw's Writing Hut, as well as many others. I need a writing hut! Don't you think I need a writing hut?
Hey, I'm not the only one who loves tiny houses. This is a very cool site with lots and lots of pictures of tiny houses. And here is a blog about tiny houses. There are even several companies, for example, Tumbleweed Houses, who build and sell gorgeously cute, tiny houses. You don't have to be introspective or a writer to like these—they are just so cool, all built-in-everything, and efficient, like boats.
What is the romance of tiny houses? It's hard to put a finger on it. But surrounded, as we are, by a profusion of McMansions going in so fast that our rural road doesn't look anything like itself, even from a couple years ago, tiny houses seem so lovely in their attention to detail and their focus on quality over quantity. It doesn't take a ton of space to feel happy and satisfied with one's home. It only takes the right amount of beautiful space to do the trick.
Okay, back to Noah's lovely, hand-built house. It's about 200 square feet, plus a loft you can stand in, made with lots of recycled components purchased from a used building supply store. Yes, that's 200, not 2000. Those 'not so big' people crack me up sometimes—they go on and on about downsizing from the McMansion syndrome, which is great, but then the 'small' house will still be 2500 square feet! I don't know, maybe there are seven people in that house. Seven people who don't like each other.
Here is a shot of the inside of Noah's place. Isn't it cute? There is something just right about a person building their own tiny home, in a way that suits that person exactly, like tailored clothes made for your own body's idiosyncrasies.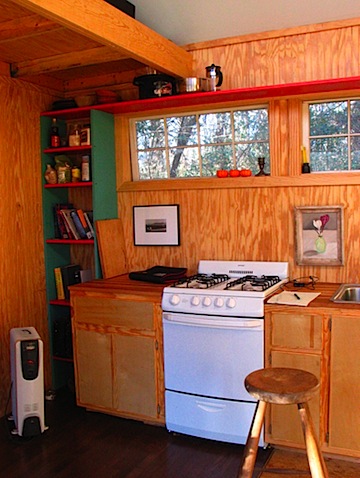 But then terrible news! Just as Noah was settling in, the forces of evil and zoning cracked down on him and announced that no one was allowed to live in this house. In fact, it couldn't be a house at all. It could only be a storage shed. And not only that, it was too tall and would have to be cut down.
Sometimes you just want to go kick someone. I mean, really kick someone.
But Noah decided, instead of kicking, to do something else.
Rather than cut down his house, he decided to give it to us.
No kidding! How many people get to give away a house? How many people get given a house? My cousin is a very cool guy.
It's funny—well, I mean, it's not, but maybe this part is—because when he first built it, we had gone to see it and had immediately grokked it's beauty and utility and decided we would build one for ourselves. We even called it 'the Noah House' as in, "when we get the Noah House built we'll do blah blah blah," or, "That window would be good for the Noah House." And this was the year we were going to build it—or rather, Paul was going to build it. We had even sited it, with orange string and stakes. I would look out the window and imagine it there, our own Noah House.
We had no idea it would be Noah's house that would be going there! Maybe our manifesting was too powerful! Or too… specific?
Anyway, our first thought was to have the Noah House moved here to yurt land. But because of the height, 16 feet, every power-line between here and there was going to have to get lifted, and that was a lot of fees. Seven thousand dollars worth of fees, to be exact. Um, no thank you. Not to mention the trees we would have to take out, both where the house is now, and here at the yurt.
So we decided to hire a carpentry crew to take the house apart, cart the pieces over here, and then put it back together. All the house at half the cost. In essence, recycling an entire house.
It all starts today! Tune in over the next few days for updates….
Click here for day one.