First off, I'm not documenting how to do that whole squeeze and roll thing you do when you hand milk a goat. There are two reasons.
(1) Fancy kicks! OMG! She gets annoyed, she demands more sunflower seeds, she says quit it already, and she says it all with her hoof. You have no idea how disheartening it is, and bad for the human/goat relationship, to eek out a little milk using this painfully slow method and then having your goat put her muddy hoof right in the bucket. AAARRRGG! Maybe a calmer goat would be more conducive to hand milking. Maybe if I sedated Fancy. But I don't—she wouldn't like it and besides, who would want to drink drugged goat milk?
(2) Fancy is a miniature goat. That means her teats are small. Instead of squeezing and rolling with my hand, I have to squeeze and roll with my thumb and index fingers. OMG again! Can we say arthritis? Forget it! It takes forever.
So I use a hand milker. This one, from Maggidans.com, is designed by Maggie, a cool lady in the next town over. She has pygmy goats (very small goat teats). It is a wonderful device. I doubt I'd be doing this milking thing without it.
Now that we've cleared that up, I will now present How To Milk A Goat. Ta da!
Here's what you need: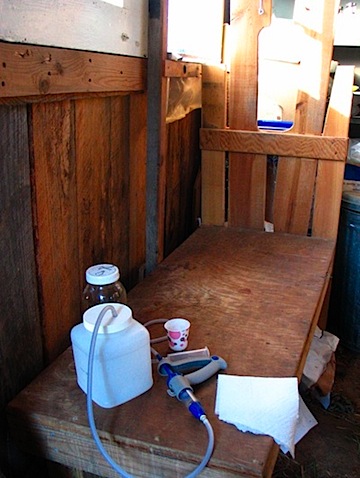 A milking stand. You've just got to have one of these. Paul made this one out of some scrap wood we had laying around, from plans we got off the internet. Gotta love the internet. Anyway, you also need a jar of teat dip—there are pre-made versions but I take well water and add some clorox and a dab of soap. Works great. Next you need dixie cup for the teat dip and a paper towel to wipe it off. The milker is that sci-fi looking laser gun thing attached to the squarish lidded container (kick-proof!).
You also need one of these: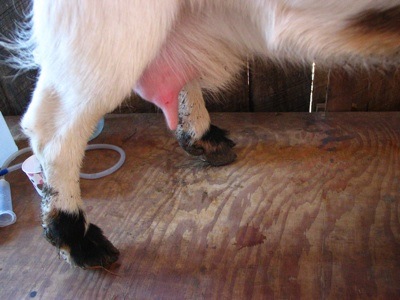 An udder.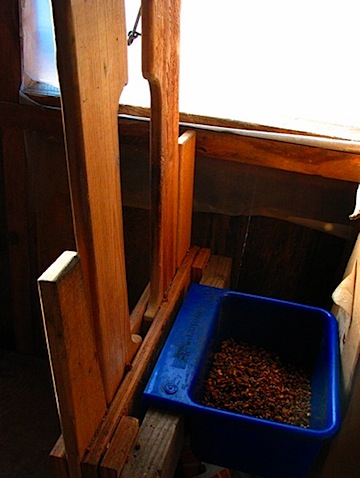 Okay, first you give the goat some goodies to eat. The milking stand is designed to let her busily snorfle her breakfast—thus distracting her from the business at hand.
Fancy knows the drill, too. I open the gate and she jumps up into the stand, ready to chow down.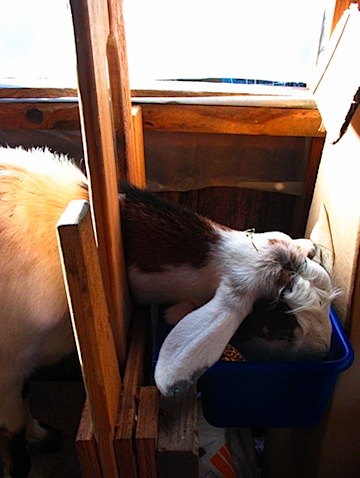 Next, you pour some teat dip and give each teat a dunk. When it rains, particularly, Fancy's belly gets muddy, yuck. You don't want mud or traces of goat poop in your milk. So you wash it all off. Cleanliness all the way when it comes to fresh, raw milk. No picture of this because I needed both hands to do it. Oh well.
Next you pop the milker cup onto the teat and give a few squeezes on the hand pump to get the suction going. The cup hangs there (don't trust the goat not to kick it off, though—I had to take my hand off to get the picture, but I usually hold it.
You can see the milk is starting to fill the bottom of the cup. It pours out like a rain storm, whoosh!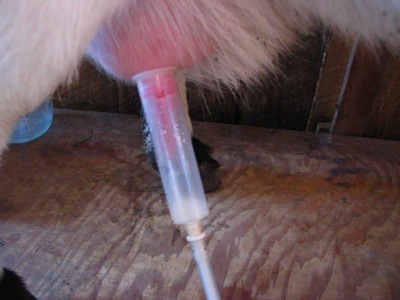 Next you slowly squeeze the milker and watch the milk flow through the tube and into the lidded container which you see for the MIRACLE that it is if you've ever had your goat kick the milk bucket over.
Here you an see the milk flowing into the pump and out the tube….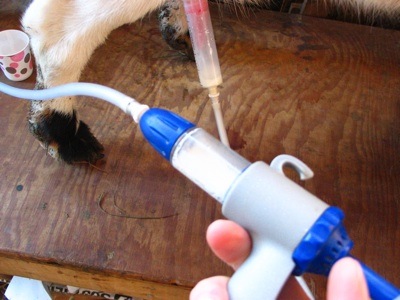 And into the container sitting at the end of the milking stand.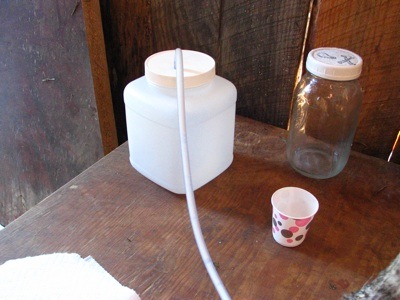 I've noticed that it takes about 50 squeezes to get a pint of milk. Fancy usually gives us a pint in the evening and a quart in the mornings. She is awesome.
Inevitably as I'm sitting beside her, the chickens wander in, hoping for some spilt goat feed. Here is Goldie saying good morning.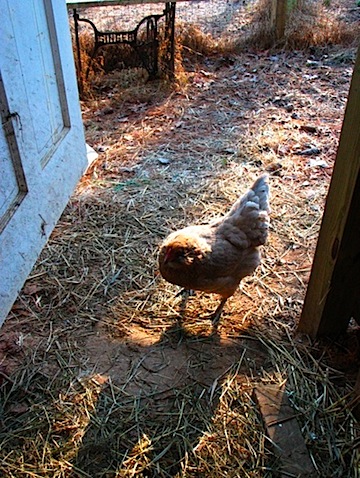 It is incredibly peaceful to milk goats. If you don't keep bucks with the does, they smell wonderful and are so sweet and stubborn and funny. I didn't expect to enjoy it as much as I do.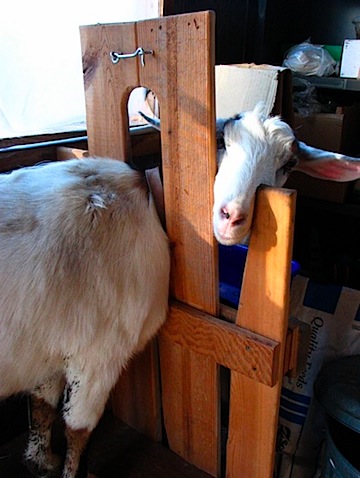 "What the heck are you doing? Quit taking my picture and let me out of here!"
And here we go, one quart of fantastic, delicious, Fancy Milk. Thank you Fancy!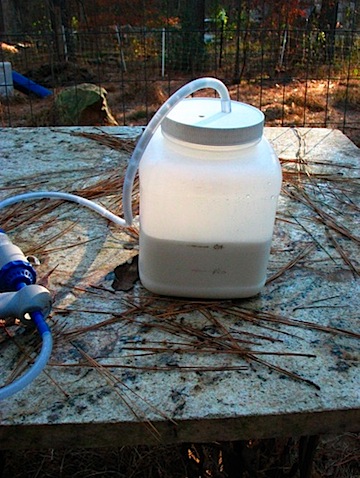 ETA: Part 2 is up here.