The yurt was totally trashed yesterday. I mean, toys spread in a thick crust on every surface, obscuring the floor, the table gone in a heap of stuff, the beds lost under mountains of toys, everywhere an explosion of toys toys toys. I said, "I can't stand it! I'm going to become Godzilla and stomp on all this stuff!" And I roared a huge roar and stomped just exactly like Godzilla.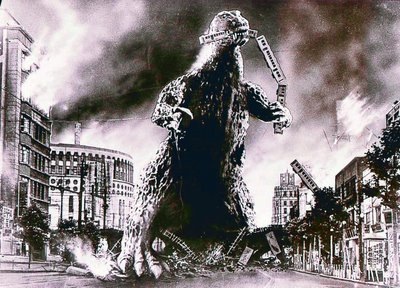 And Luc says, "What's Godzilla?"
Oh. Popular culture reference lost on the three year old. Allrighty then. To the computer!
A moment later we were looking at scads of pictures of Godzilla. Stills from movies, Godzilla action figures, inflatable human-sized Godzillas, Godzilla theme parks, Godzillas made out of legos, Mechagodzilla robots. This led to a discussion about the difference between characters and toys, how different stories can use the same characters, remakes, and how Godzilla was not, actually, a dinosaur, because dinosaurs were real, but are extinct, and Godzilla is not real, although we can see pictures of him now. Whew.
And then good-ole Youtube provided us with movie clips including a death match between Godzilla and Mothra with a stunning example of Godzilla using his Atomic Fire Breath. Wow!
And Luc, sounding a little concerned, says, "Who would be big enough to kill Godzilla?"
Seconds later we were reading an article listing all of Godzilla's various enemies, with movie stills, including a discussion of when Godzilla was good and when he was evil. I decided not to describe how Godzilla was a powerful story for the Japanese because he was an unstoppable force of destruction from across the ocean, just like the bomb that destroyed Hiroshima and Nagasaki—time enough for a discussion on nuclear war later. When they're older.
Instead, Luc says, "What's Tokyo?"
Boom, Google Earth delivers us a bird's eye, and then a street view, of downtown Tokyo, followed by an examination of, and comparison with, the buildings Godzilla is actually stomping on (we couldn't identify any, but it didn't matter). The street view was very interesting to Sophie who zeroed in on the signs—in Japanese, of course. She whips out a notebook and starts writing in 'Japanese.' Which led me to the bookshelves where I knew I had a book about kanji, and sure enough, I did. So she started copying them out, an art project, and we talked a bit about what a few of the kanji meant and how they are whole words, instead of sounds, the way our letters are. She copied several out and then announced that the complicated ones were sometimes made up of smaller versions of others. Wow, cool observation. And while we were busy looking up kanji….
Luc was building Tokyo.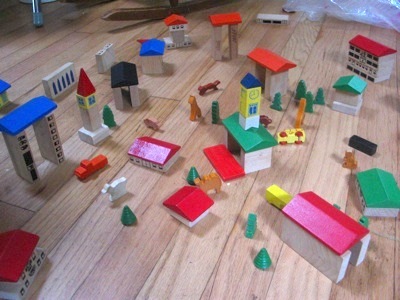 I wish I had a photo of the giant T-Rex stuffed animal stomping the heck out of it all a few minutes later, but my camera died. Suffice it to say it was awesome. Including Luc's rendition of the Atomic Fire Breath. Time to rebuild! And here comes Godzilla again! Oh, No! I'd say this process of construction and destruction was repeated, oh, at least eight or nine times.
Go, Go, Godzilla!
Eventually, it all wound down, the whole thing lasting an hour, maybe two, and we were on to the next thing. Lunch—sushi, of course—and then the sandbox. The yurt did get cleaned. Sort of. Eventually.
Godzilla + Google leads to everything.
Buy my books!

Children of the Fallen, now available on Amazon.


The haunted and talented children of the glorious and terrifying...

Toby Streams the Universe at amazon.

A psychic in the big city, trying to stay sane....

The Violin Maker's Wife at amazon.

Enchanted violins can be deadly....

Conjuring Raine, now available on amazon, B&N, and at Smashwords.

A girl, her vampire, his demon...

You can also listen to the Conjuring Raine free podcast. Enjoy!

coming next: The Lucidity Effect

Lucidity is now with the editor, woo hoo!

today's yoga practice

upcoming book releases

"Dusi's Wings" April, 2003. . . . "One thing fantasy can do for us is to give shape to the mysterious in the world; another is to make emotional yearning concrete. The early sections of "Dusi's Wings" do just that...there was a strong grasping towards the spiritual in fantasy here that was very promising, and I look forward to reading more by Lassiter." --review, Tangent Online.