A friend of mine recently joked with me that it was pretty hilarious that I have a 'recipes' section of my blog when I don't cook.
And what's that supposed to mean? I cook! I mean, I CAN cook. Hey, I've done my time in the food service industry! Line cook, stove cook, short order cook, prep cook. Two years after high school I supported myself feeding the masses at various of the local eateries. I'll never forget spending my Sunday mornings separating 64 eggs to make two gallons of really freaking good, if I do say so myself, Hollandaise Sauce for the brunch crowd at one of my cook jobs. I had to stand on a stool to whisk because the double boiler was higher than my head. We had buttons made that read "Subversive Brunch" and "Fuck Brunch" because the shift was so slammed, we wanted fewer patrons. We joked about running out of the kitchen yelling "Roaches!" to try to thin the crowd. You know, I don't think the owners knew about that.
Anyway, so, you know, maybe I don't cook much now because I've used up all my cooking already. Have you thought of that? Maybe we only get so many "Person's Fed" allotted to us at birth, and I've already nearly filled my quota. Maybe I'm pacing myself for the rest of my life.
And anyway, I just made the best damned corn bread you're ever going to eat. And I'm going to write how I did it on my blog in my recipes section. So there. And you better be nice to me or you can't have any. You know who you are.
Fluffy, sweet, yellow, and marvelous with the butter and honey dripping down your fingers and straight—zoom!—to your thighs. You can't be a southern girl if you don't know how to make cornbread.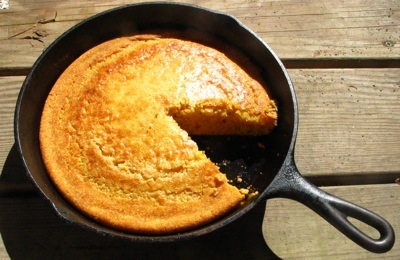 Best Damned Cornbread on the Planet
1 1/2 cups buttermilk, yogurt, or plain milk with a splash of lemon in it (Ours came from Fancy the goat. Thanks Fancy!)
1 stick of butter
2 eggs (ours came from Coco the chicken. Thanks Coco!)
1/4 to 1/3 cup sugar, depending on how sweet you like it
1 cup yellow cornmeal, the coarse grind makes it chewier, the fine grind makes it fluffier
1 cup flour
1 tsp baking soda
Okay, you want an iron skillet for this. I don't know why this works so well, but if you want that crispy outside and the ultra-tender inside, you just have to get out the skillet, the one that weighs about ten pounds and can't be lifted with just one hand, at least not by me with my skinny-ass wrists. All right, you take your skillet and you throw it in the oven (I mean, don't THROW it or you'll bust your oven. Duh.) Put the oven on 400 degrees. Oh, and put the stick of butter in the skillet while the oven is getting hot. That way, the butter is melting while you do the other stuff.
Other stuff: mix buttermilk, eggs, sugar and salt with a whisk. Pour in the melted butter (leave a bit in the pan for anti-sticking purposes). Don't get burned when you pour the melted butter from that heavy pan! Ask someone with super-strength to help. Okay, whisk like hell, then dump in the cornmeal and the baking soda and whisk again until the batter is nicely smooth.
Now pour the whole mess of it into the iron skillet and put it back in the oven for about 25 minutes. When it's done it will be as golden as the sun and the crispy edges will pull away from the sides of the pan in the essence of cornbread nirvana. Slice into wedges and eat. I love mine eaten with chili on a cold day. The leftovers get scarfed at breakfast the next morning with the aforementioned honey and butter. Yum.
See? I can too cook.
Newsletter of Awesomeness

Buy my books!

Ghost Fugue, for 3 Voices, now available on Amazon.


Creature of Dreams, now available on Amazon.


Children of the Fallen, now available on Amazon.


The haunted and talented children of the glorious and terrifying...

Toby Streams the Universe at amazon.

A psychic in the big city, trying to stay sane....

The Violin Maker's Wife at amazon.

Enchanted violins can be deadly....

Conjuring Raine, now available on amazon, B&N, and at Smashwords.

A girl, her vampire, his demon...

You can also listen to the Conjuring Raine free podcast. Enjoy!

coming next

I have no idea. Maybe one about aliens I've been thinking about. I'll get back to you.

"Dusi's Wings" April, 2003. . . . "One thing fantasy can do for us is to give shape to the mysterious in the world; another is to make emotional yearning concrete. The early sections of "Dusi's Wings" do just that...there was a strong grasping towards the spiritual in fantasy here that was very promising, and I look forward to reading more by Lassiter." --review, Tangent Online.