Few things can teach patience–and I mean 'teach' in a Navy Seals Training Course kind of way–as doing a craft with a four year old and an almost three year old. Somehow (how do these things happen?) we acquired a Klutz book on making beaded bobby-pins and Sophie and I have been nose to the grindstone, churning out these puppies, at, oh, I'm guessing glacial speed.
What's a beaded bobby-pin? Here ya go:

Imagine trying to hold an, as of yet, unadorned bobby-pin, and an ultra-thin bit of wire, PERFECTLY STILL, while your four year old tries to thread a microscopically small bead upon said wire. Now, add to that, the three year old, sitting on your lap, wiggling, flailing arms, and telling a story about dinosaurs or Thomas that Train. Hold that wire still! Ooops, she dropped the bead. Again. Okay, find the bead. Got it. Assume the position. Three year old resumes wiggling, four year old resumes attempt four, jams the wire. Okay, straighten the wire. Again. Take five. Oops, dropped the bead. Go find the bead. Assume the position. Take six. She's almost got it…almost…almost. Jammed the wire. Okay, straighten the wire. Oops, dropped the bead. Go find the bead. Tsk, tsk, try not to scratch your eyes out!
Really, it's strange how an activity like this can be at 98 on the insano-meter, and still be fun. But it is. Maybe the trick is laughing at myself while we hunt for the bead again. Maybe it's because she's so happy prancing around the yurt with her jeweled hair, ornaments that she made, okay, made with a little help (especially at the end when I distracted her and did the final wire wrapping myself, quickly, before anyone noticed). Maybe I'm a glutton for punishment. I mean, the inner fortitude it takes to NOT reach out and just put the damned bead on the wire for her, just to get it on there, finally, finally, is unbelievable.
And what happens once the bead is on? You start with the next bead.
Don't forget, you lose major points if you run screaming from the room.
But the results are quite lovely in her little blond hair and she feels like a princess wearing them. And I have added +1000 to my patience bar. It's like building muscles, or good karma. Go for the burn.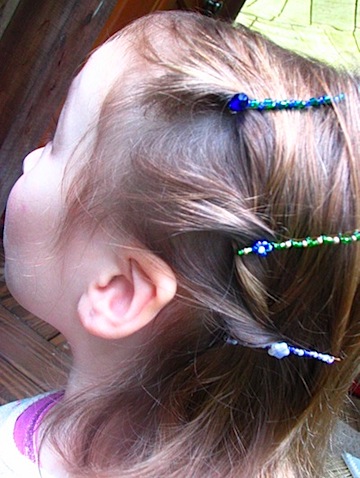 Buy my books!

Children of the Fallen, now available on Amazon.


The haunted and talented children of the glorious and terrifying...

Toby Streams the Universe at amazon.

A psychic in the big city, trying to stay sane....

The Violin Maker's Wife at amazon.

Enchanted violins can be deadly....

Conjuring Raine, now available on amazon, B&N, and at Smashwords.

A girl, her vampire, his demon...

You can also listen to the Conjuring Raine free podcast. Enjoy!

coming next: The Lucidity Effect

Lucidity is now with the editor, woo hoo!

upcoming book releases

"Dusi's Wings" April, 2003. . . . "One thing fantasy can do for us is to give shape to the mysterious in the world; another is to make emotional yearning concrete. The early sections of "Dusi's Wings" do just that...there was a strong grasping towards the spiritual in fantasy here that was very promising, and I look forward to reading more by Lassiter." --review, Tangent Online.