I am a tie-dye queen. Sometimes I look down and realize  the whole troupe of us (me and the kids, Paul wouldn't wear tie-die as it would interfere with his olive-on-olive look) is wearing tie-dye. It's really bad if we all happen to put on stuff from a period of me trying to use up a certain color, and then we end up with all three of us in purple scrunch die, or something, as if we're all on some hippy sports team. Very embarrassing. I'm getting better at catching that before we go the grocery store.
Here is a great shot of Sophie at three, wearing a particularly colorful t-shirt: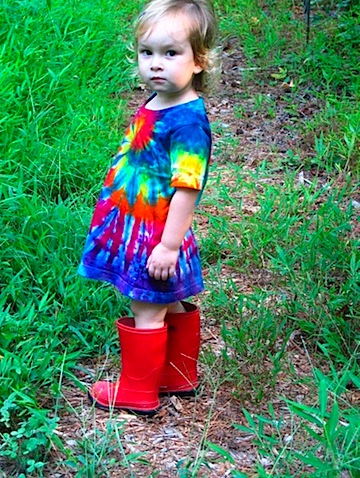 It's not that I am a master of complex technique, or always produce works of art.  It's that I have the process so streamlined, I can whip out a colorful item with almost no effort, fitting it in between laundry, dishes, making cheese, milking goats, and endlessly picking up toys, not to mention writing brilliant blog posts, such as this one, and the occasional novel. Wow, I sound so accomplished! In a ridiculously domestic way. I could be one of those Japanese girls who had to know calligraphy, and flower arranging, and making perfect sushi and ultra-fancy-hair do's. Only without the whole foot-binding thing. Yuck.
Here are the kiddos wearing all, simple, mason-jar dyed, items in lovely, brilliant colors.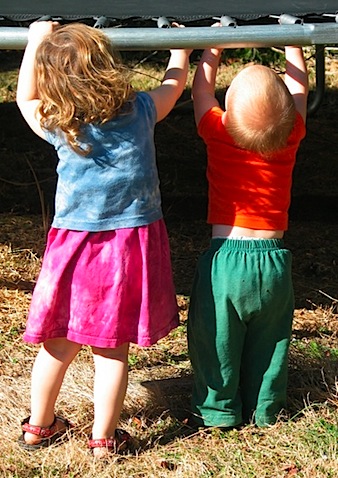 Anyway, I'm not that accomplished. I'm really very lazy.  And that laziness exhibits itself in the form of figuring out the absolute easiest way to do something. (Except writing novels, where I generally try to find the hardest way possible, including as many re-writes, and tossed pages, as it is humanly possible to produce. Ahem.)
Here is the tie-dye shelf: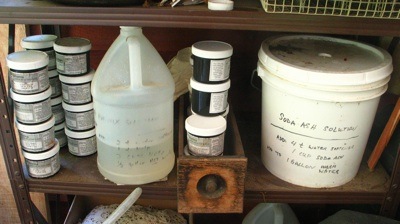 God, it looks really dusty. Okay, that's because it IS really dusty because it is all outside. You want good ventilation for this stuff! Don't want some nasty lung disease from inhaling bizarro dye chemicals.
On the right is the soda ash solution bucket, full of soda-ash solution, ever ready to receive white 'clothing blanks,' as they are called. I dump in the white item and let it soak for…some period of time. Okay, honestly, I often forget and leave them in for hours. Or days.
In the middle is the dye-pre-mix solution jug. This is the stuff you add the dye powder to–the dye powder is in all those little containers stacked up.  You can make whatever color you want, just get fuchsia, blue, and yellow and mix it up. But remember, I'm lazy, and the people I get the dye from do a good job mixing interesting colors, so I tend to get my more complex colors pre-made.  The biggest danger here is that the label fades and I have no idea what is in it.  Kilt green?  Chocolate brown?  Amethyst?
Okay, the white clothing blank sits in the the bucket, and at some point I think, oh, I should make some dye.  So, I pour a few glugs of the dye-pre-mix solution into a mason jar, add some scoops of dye powder, and shake. Presto, dye. It's all so very precise, isn't it? You really have to pay attention to the details (NOT) to get good results.
Time for an interlude. Here is Sophie dressed as a fraggle.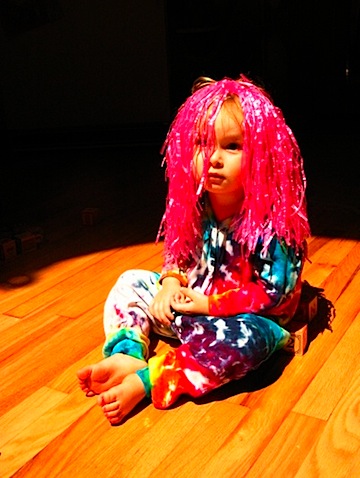 Tie dye pajamas!
Anyway, with these two solutions pre-made (and I have the recipes written on the containers because who can remember that stuff? Or find the paper it was written on? Forget about it.), it's insanely easy to do a little dye work. Remember the clothing blank waiting in the soda-ash solution? Wring it out, put it in a plastic box, or scrunch it into a jar, or fold it up and tie it (fake sinew works great for this), and then pour the dye (or dyes) over the top, wherever desire. Put the lid on go away for a while.
Sometime in the next day or two I remember that I'm dying something and I go, "Oh!" and smack my head.  Then I hurry over to rinse out the item a bit in the tub before popping it into the washer with some Synthrapol. Presto, a new article of clothing for the clan.
I get all the dye, chemicals, and clothing blanks, from this totally cool company Dharmatrading.com. They have everything you can imagine in the world of dye, and I mean everything. I especially love all their little kid clothes, cute and simple cotton clothes for cheap. Their rayon stuff for grown-ups is great, too. Go Dharmatrading! If it weren't for you, my family would be naked!
I learned from books and from this Learn to Tie-Dye DVD which has the formula I use for the two solutions. A really great DVD. With a sense of humor.
Here's another tie-dye interlude, cute kids in a heart dress and a sunshine shirt.
Sheesh, I'm looking and looking for pics of me in some of the stuff, because I wear tons of it. Beautiful rayon skirts from Dharmatrading, scoop-neck, cap-sleeve, fitted t-shirts, etc. I guess I'm never in the photo because I'm usually the taking the photo. Maybe I can get Sophie to take a snap. Be right back.
Okay, Sophie was totally NOT into it and kind of cut me in half, but you can see the color of the skirt I'm wearing. Of course, it's all wrinkled because, well, because I'm wearing it, and have been all day. But isn't this color awesome?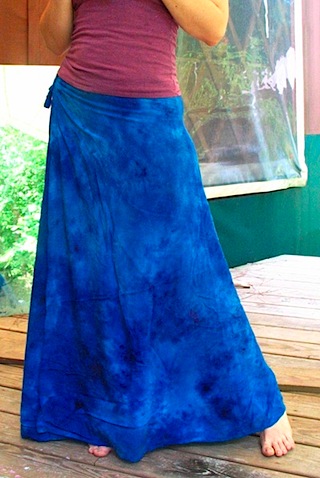 Maybe it's better that she cut me in half, actually. I stayed up too late last night (can we say under-eye-bags?) and I am absurdly under-groomed.
Moving right along. Tie-dye is a lot of fun, and it is a heck of lot faster than knitting, which was my pre-baby fiber-arts hobby. If you ever wanted to give it a try, I highly recommend it. Be fearless! Wear bright colors! Get comments everywhere you go!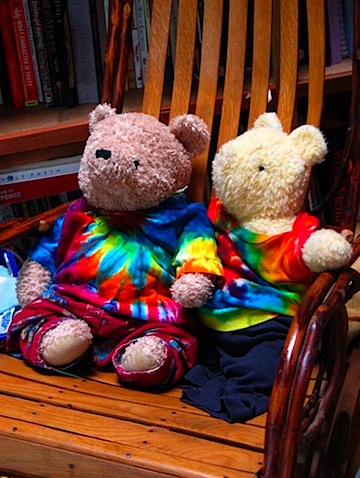 Buy my books!

Children of the Fallen, now available on Amazon.


The haunted and talented children of the glorious and terrifying...

Toby Streams the Universe at amazon.

A psychic in the big city, trying to stay sane....

The Violin Maker's Wife at amazon.

Enchanted violins can be deadly....

Conjuring Raine, now available on amazon, B&N, and at Smashwords.

A girl, her vampire, his demon...

You can also listen to the Conjuring Raine free podcast. Enjoy!

coming next: The Lucidity Effect

Lucidity is now with the editor, woo hoo!

upcoming book releases

"Dusi's Wings" April, 2003. . . . "One thing fantasy can do for us is to give shape to the mysterious in the world; another is to make emotional yearning concrete. The early sections of "Dusi's Wings" do just that...there was a strong grasping towards the spiritual in fantasy here that was very promising, and I look forward to reading more by Lassiter." --review, Tangent Online.