Here is a shot that Sophie got of me going about my Honeymilk Farm chores this morning. I look really sleepy. She said I should put it on the blog, though, so I am. I love how her photos are from such a different perspective (three feet off the ground). Often when she takes pictures of me, they go straight up my nose.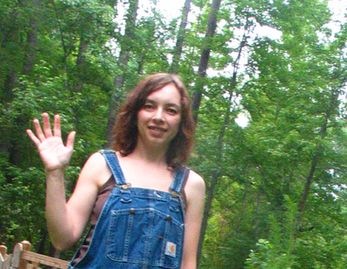 In other news, we went to check the bees yesterday. Here they are, chillin on the front porch, coming and going, shucking and jiving.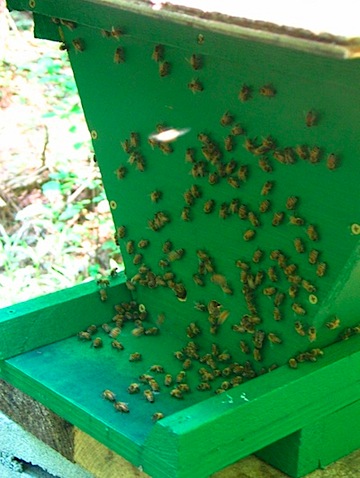 They are doing really well, bee business is booming. Unfortunately for us, however, they are booming in a way that makes it impossible to get into their hive without tearing it up. They got off to a rough start with the whole hive-missing-in-the-mail thing. Here is a shot of the inside, completely gummed up with comb.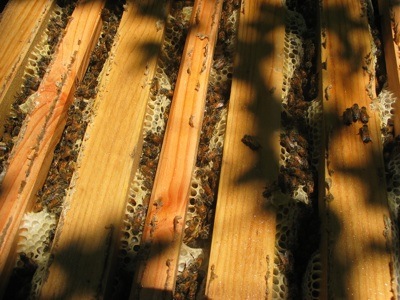 Those bars are supposed to lift-out-able, but no way, as the bees have stuck them all together. I figure, they're doing well, so I'll leave them to it. However, next spring, if they make it through the winter, I'll have to crack it open and help them start over. Sorry bees! There is a way to cut comb off and kind of sew it to the bars so you get some straight brood comb, but it is hard to do with new comb like this, new comb being so fragile. But next spring, that might be the thing to do. Well, it's all a learning process.
And here is what Paul has been working on. The Man Shack. Okay, he calls it the 'tool shed' but really, its a boy's fort house that has the sign on the door saying "no wives allowed!'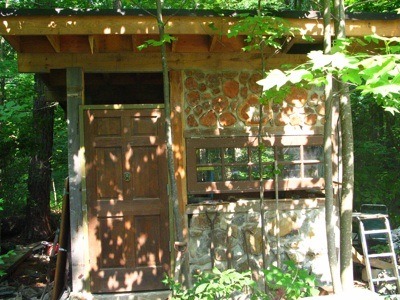 It's kind of like a quilt sampler isn't it? Stone work, cordwood, recycled materials, beams cut from the trees we cleared when we put the yurt in. It's probably bulletproof, bombproof, those tools will definitely be safe in there, barring direct nuclear strike. I like the lion's head door knocker. A fitting, masculine touch.
And finally, a happy birthday key lime pie for Paul. Happy Birthday, Paul!