If you haven't seen the Japanese movie (or, more likely, the english dub of) My Neighbor Totoro, run, don't walk, to beg, borrow, or netflix it.  You won't be sorry. It is a wonderful movie, kid friendly, yes, but don't let the fact that it's animated make you think it is only for kids. It is one of Miyazaki's best, full of deep characterization, and all the sweetness and terror of childhood, with none of the sappy shite you find in most offerings for kids.
Anyway, there is a lovely moment in the movie where one character makes a bento lunch for her little sister. Here it is:

Bento literally means 'lunchbox' but only if your lunch is a small work of art, balancing color, nutrition, and flavors, all packed into a small lacquered box.
The kids and I got into watching Totoro, and that bit with the bento was always so lovely, we decided to make a few bentos of our own. Several Japanese cookbooks later (and though it has flaws, for a the raw newbie to Japanese food, I liked Japanese Women Don't Get Old or Fat, and Japanese Cooking: a simple art (mostly for the pictures and descriptions of ingredients) as well as the above linked Just Bento site), and a trip to ebay for a real-live bento box, I made this for Paul: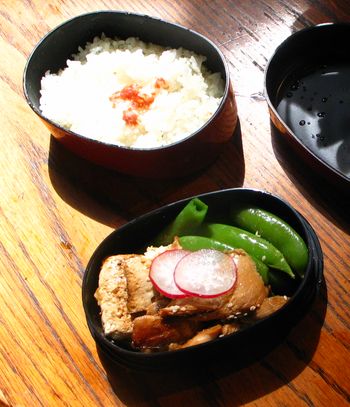 Isn't that pretty? I am unreasonably proud of this, my first bento.
So proud, I'm going to show you another one: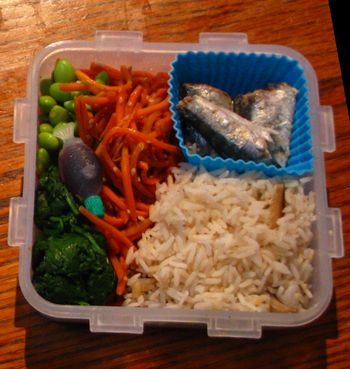 Edamame (salted soybeans), carrot kinpira (carrots in mirin and soy sauce, sautéed in sesame oil, spinach roll, shitake mushroom rice, sardines, and a little fish of soy sauce for the rice.
Paul was enthusiastic, but wary, as these interests of mine tend to pass quickly, especially if I have to get up earlier to do them. Okay, it's true, I haven't made him a bento in, ahem, a while.
But this week Sophie has been going to Fun Camp, requiring me to pack her a lunch, and it seemed a perfect time to pull out the bento boxes. Kyaraben is the art of 'character bento' or making lunches look like pictures of favorite characters, usually from cartoons. Those Japanese, they really know how to go over the top with cuteness.
No doubt, making a bento for a four year old is world's away from making bento for one's husband, but I have not approached the kyaraben of the truly dedicated. I'm not worthy! Still I have made some cute lunches that Sophie raved about. Again with the unreasonable pride on my part: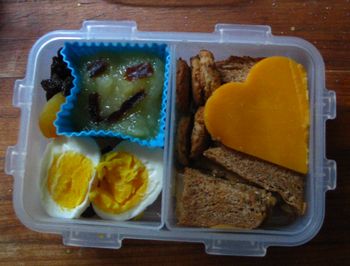 Egg, apple sauce with fruit leather face, apricot, raisins, little oatmeal cookies, pb&j, and cheese heart.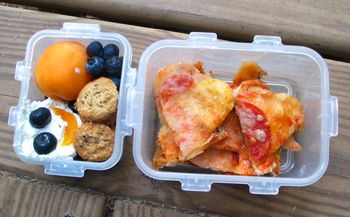 Cream cheese with blueberry and apricot face, little oatmeal cookies, fresh apricot, more blueberries, and pizze cut into hearts (hee hee).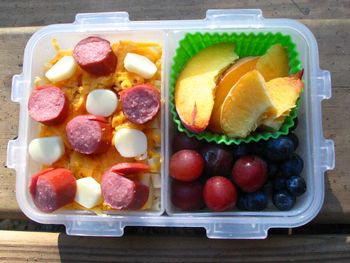 Here we have mac and cheese with cheese stick and hotdog checkerboard, frozen peaches, grapes and blueberries.
And today,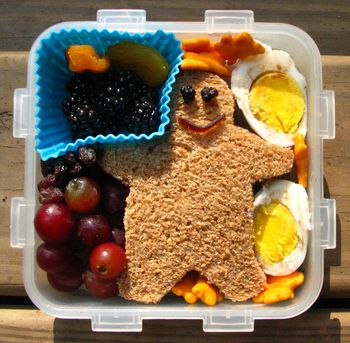 Egg, cheddar bunnies, grapes, raisins, fresh blackberries from our patch, apricot, strawberry and cream cheese little man sandwich with wild raspberry eyeballs. Sophie says, "I ate the whole thing!"
I feel like I am indulging in some weird corner of cuteness in my brain that I never let live before, like I have a secret closet full of cross-gendered clothes or something. Yes! I make cute lunches for my kid! So sue me!
Actually, the whole thing has triggered an interesting hiccup in my feminist upbringing, where service to a cause, to making people's lives better, in the abstract, was good–but somehow service to a person, to my family, to making a these particular people's lives better was…not so good, was, I don't know, to lose one's self in the identity of 'mother' and 'wife.' Not that this was ever stated, per se, nor a part of actual feminist philosophy, of course. But somehow, in the amalgamation of feminist rhetoric that I ingested growing up, being a mother, working daily to make these little people's lives better, was filed under things housewifely, that is to say, not valued. So much so that it was a surprise to me how fulfilling it is to do it. And then it was a surprise to me how surprising it was.
I mean, it ought to be obvious, right? Working to make other people's lives better feels good. Duh.
When we first got goats, I had a moment early on–I was filling the water buckets and delivering hay–when I thought, this is what they mean by 'good honest work.' It was so uncomplicated. I was giving these creatures some stuff that would benefit them, give them a better day. The work of my muscles would make another creature's life better that day. It was nice.
Making bento seems to trigger the same reflex. Plus there is this artistic side, not unconnected to the part of me that used to make quilts, balancing color and form within a rectangular space.
It's cool.  It's hip. It's good for the soul. Today Doctor Maya says, do something sweet to make someone you love have a sparklier day. It will feel good.
Buy my books!

Children of the Fallen, now available on Amazon.


The haunted and talented children of the glorious and terrifying...

Toby Streams the Universe at amazon.

A psychic in the big city, trying to stay sane....

The Violin Maker's Wife at amazon.

Enchanted violins can be deadly....

Conjuring Raine, now available on amazon, B&N, and at Smashwords.

A girl, her vampire, his demon...

You can also listen to the Conjuring Raine free podcast. Enjoy!

coming next: The Lucidity Effect

Lucidity is now with the editor, woo hoo!

upcoming book releases

"Dusi's Wings" April, 2003. . . . "One thing fantasy can do for us is to give shape to the mysterious in the world; another is to make emotional yearning concrete. The early sections of "Dusi's Wings" do just that...there was a strong grasping towards the spiritual in fantasy here that was very promising, and I look forward to reading more by Lassiter." --review, Tangent Online.