Today I thought I'd show you our goat house.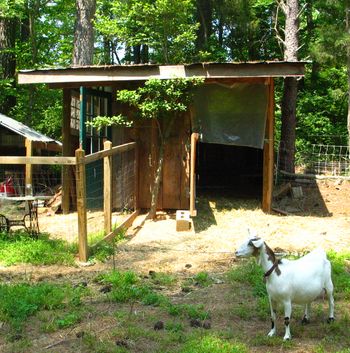 Paul built it out of recycled materials–the only bits purchased new were some treated wood posts, tar paper for the roof, screws, and some brackets for the scrap plywood puzzle that makes up the ceiling. Altogether, it cost us about $100.
One of the cool things about the above shot is you can see how a Holly tree is growing through the roof. Here is another shot from the outside. The angle really makes it look like the roof is slanted, but it isn't.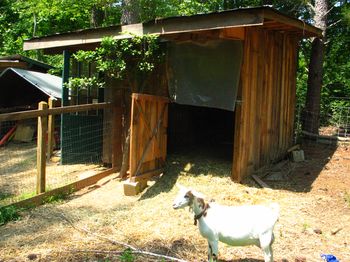 That's Fancy Goat, standing there, wondering what the heck I'm doing.
Here is the gate to the goat yard.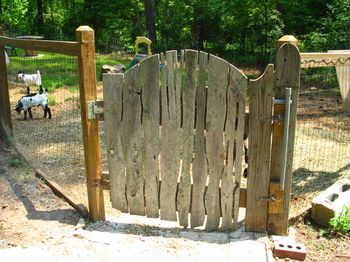 And here is the entrance to the human side of the goathouse.  Shall we go in?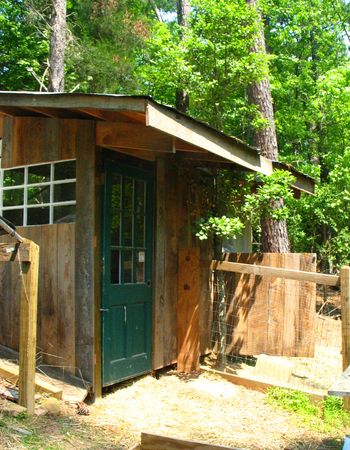 Okay, now that we're inside the house itself, let me show you around.
Here is one wall and the sleeping platform. Paul found all these crazy old tin ads and put them up. There is also a metal goat head that my aunt, a welder, made.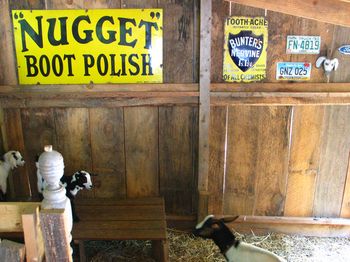 Here is another shot of the bed corner with the baby boys on it.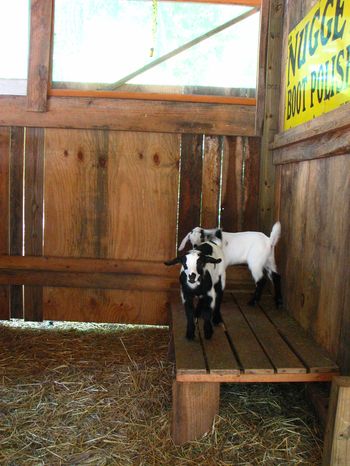 Those are old sliding glass doors for windows. The pine boards were milled from trees cleared for our yurt.
Here is the the opposite corner. That is a pallet forming the 'wall' between the human side and the goat side of the interior–the slats make good places to hang the containers for grain, water, and minerals.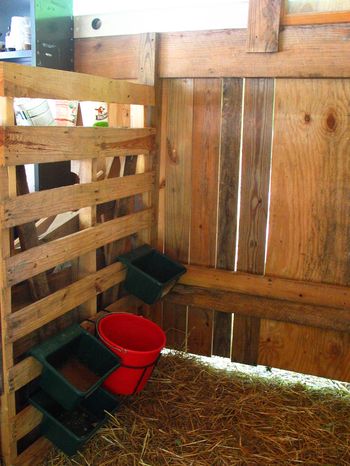 Here is the corner near the goat door.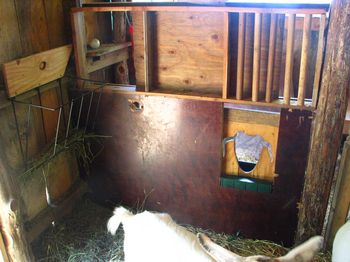 There is a sliding panel so I can put hay in the hay rack from the other side, as well as the funny goat-head cutout for the goats to peek through and get snacks. The lower part of that wall is a wooden door, turned on its side. You can see the hole where the doorknob would have gone.
Here is Lucy, from the other side of the wall, saying, "hey, how about some sunflower seeds?"
.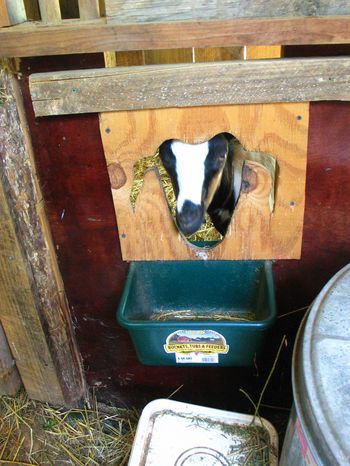 Here is the gate between the human side (where the milking stand, food, and supplies are) and the goat side (where they hang out). I've posted this pic before, but it ought to be here, too, I think. Cool, huh? That Paul, he is the junk maestro.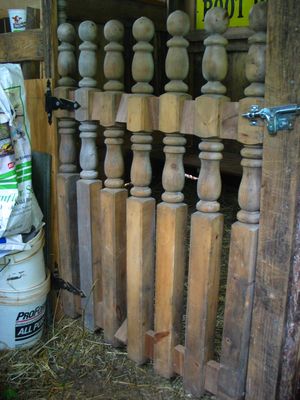 And for those of you who have been following our fly travails, here is one to gross you out with.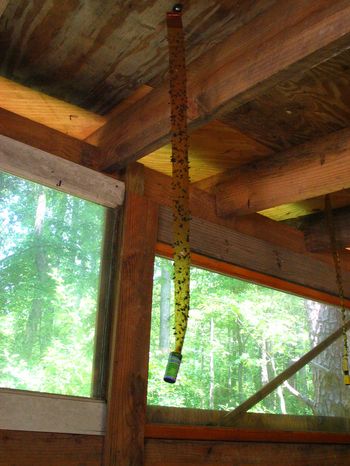 Ewwwwwwww.