Our kitchen counter looks like maple butcher block, a giant slab of maple pieces, several inches thick. Very pretty. And a custom fit: rounded on the back edge to meet the yurt wall. Guess what it was in its former life?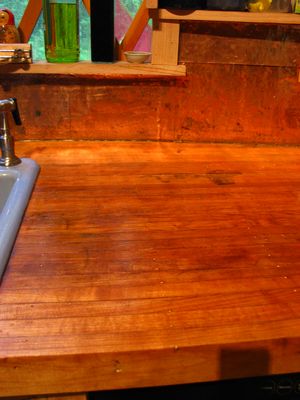 A bowling alley! No kidding!
Here is our bathhouse floor, pieces of polished granite and marble in a checkerboard pattern. A counter top place nearby cuts these uber-expensive counter tops from the stuff and then throws away the scrap. Which we collect. Paul cut these seven inch tiles with a wet-tile saw from such castoffs. Free (plus the expense of renting the saw).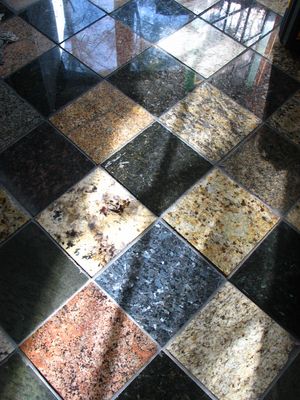 Another example of what can be done with counter top cast offs: this is the watering place for the animals. The round piece of granite is the cutout for a bathroom sink from the same counter top place.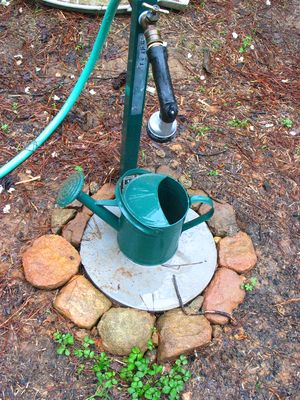 More recycled junk! Here's the gate in the goat barn. Stair spindles. Cool, huh?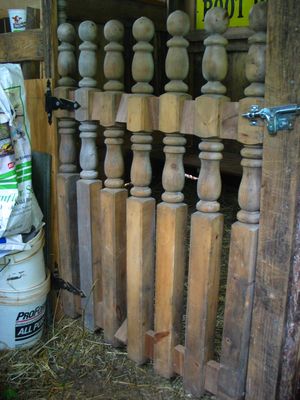 It's amazing what you can do with other people's junk. Or rather, what Paul can do.
Buy my books!

Children of the Fallen, now available on Amazon.


The haunted and talented children of the glorious and terrifying...

Toby Streams the Universe at amazon.

A psychic in the big city, trying to stay sane....

The Violin Maker's Wife at amazon.

Enchanted violins can be deadly....

Conjuring Raine, now available on amazon, B&N, and at Smashwords.

A girl, her vampire, his demon...

You can also listen to the Conjuring Raine free podcast. Enjoy!

coming next: The Lucidity Effect

Lucidity is now with the editor, woo hoo!

today's yoga practice

upcoming book releases

"Dusi's Wings" April, 2003. . . . "One thing fantasy can do for us is to give shape to the mysterious in the world; another is to make emotional yearning concrete. The early sections of "Dusi's Wings" do just that...there was a strong grasping towards the spiritual in fantasy here that was very promising, and I look forward to reading more by Lassiter." --review, Tangent Online.