We have four Ameraucana chickens, named (by my daughter) Goldie, Whitey, Coco, and Floppy. Goldie, Whitey, and Cocoa were named for their colors, Floppy for her tendency, as a chick, to flop around. Naming is so easy when you are four years old. However, my husband declared that Whitey's full name is Whitey on the Moon. I think he is right.
Here is Whitey.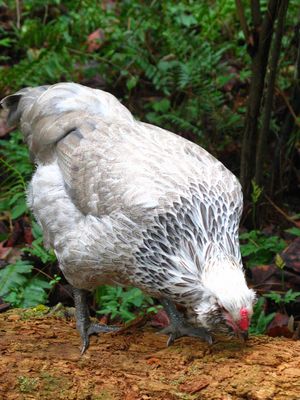 And here are all Goldie and Floppy, next to Whitey on a log. I couldn't find Cocoa. She likes to keep to herself.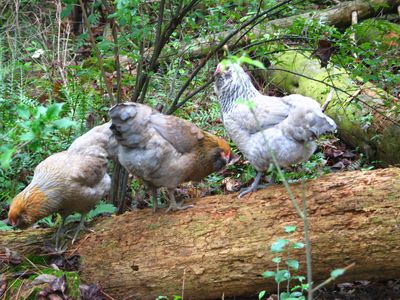 The girls give us 3 or 4 eggs a day, and, I kid you not, they lay pastel colored eggs. This shot was taken fresh from the hen house.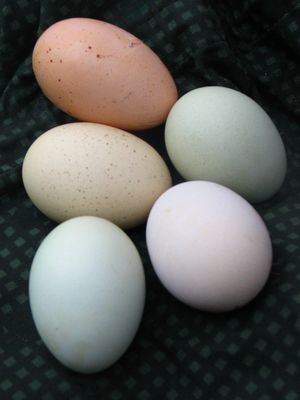 Since we let the chickens wander around most days, they sometimes make themselves secret nests, which we find, days later, full of hoarded, beautiful eggs, treasure in the leaves, or under the house, or in a sand bucket. It's like an easter egg hunt, all year round.
And the eggs are delicious.
Buy my books!

Children of the Fallen, now available on Amazon.


The haunted and talented children of the glorious and terrifying...

Toby Streams the Universe at amazon.

A psychic in the big city, trying to stay sane....

The Violin Maker's Wife at amazon.

Enchanted violins can be deadly....

Conjuring Raine, now available on amazon, B&N, and at Smashwords.

A girl, her vampire, his demon...

You can also listen to the Conjuring Raine free podcast. Enjoy!

coming next: The Lucidity Effect

Lucidity is now with the editor, woo hoo!

today's yoga practice

upcoming book releases

"Dusi's Wings" April, 2003. . . . "One thing fantasy can do for us is to give shape to the mysterious in the world; another is to make emotional yearning concrete. The early sections of "Dusi's Wings" do just that...there was a strong grasping towards the spiritual in fantasy here that was very promising, and I look forward to reading more by Lassiter." --review, Tangent Online.