We use recycled building materials every chance we get. For example, here is our chicken house.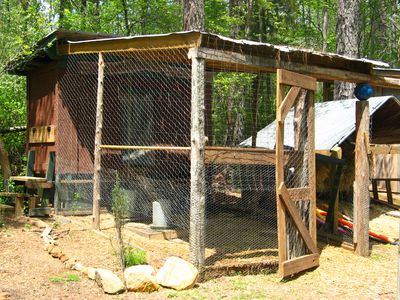 It's quite nice, with outdoor and indoor roosts, an enclosed yard, a sliding door on the house to close them all the way inside when the winter is cold, and a hinged flap that lets you check for eggs without going inside–that's over on the left of the picture (with steps so the kiddos can check on their own. They love that). The nesting boxes are right on the other side of the flap, so the chickens lay the eggs, and we lift the flap and say, "thank you, chickens!"
The whole arrangement cost about $10 (for hinges and screws). Plus Paul's labor and creativity, of course.
How did we do it? Here we go: the house itself is the box the yurt came in. The tin roof came off an old, falling down house. The cedar posts are from downed trees, courtesy of Hurricane Fran a few years ago. The screen door and the roof bracings were made from scrap wood gotten out of dumpsters. The bowling ball came from the dump.
Huh? Bowling ball? (If you can't see it, I'll give you a hint. It's blue.)
I wish we were doing all this recycling for purely environmentally green reasons–and we are, doing it for those reasons–but mostly we're just really broke. Sad, but true.
And I should add that Paul does 99% of the hoarding and collecting. My part in all that is mostly to complain about all the junk in the yard. And then enjoy the cool places he makes. Of course, the chickens do most of the enjoying on this one. Thanks, Paul!
Buy my books!

Children of the Fallen, now available on Amazon.


The haunted and talented children of the glorious and terrifying...

Toby Streams the Universe at amazon.

A psychic in the big city, trying to stay sane....

The Violin Maker's Wife at amazon.

Enchanted violins can be deadly....

Conjuring Raine, now available on amazon, B&N, and at Smashwords.

A girl, her vampire, his demon...

You can also listen to the Conjuring Raine free podcast. Enjoy!

coming next: The Lucidity Effect

Lucidity is now with the editor, woo hoo!

today's yoga practice

upcoming book releases

"Dusi's Wings" April, 2003. . . . "One thing fantasy can do for us is to give shape to the mysterious in the world; another is to make emotional yearning concrete. The early sections of "Dusi's Wings" do just that...there was a strong grasping towards the spiritual in fantasy here that was very promising, and I look forward to reading more by Lassiter." --review, Tangent Online.